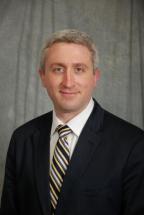 Penn State Behrend mechanical engineering alumnus David W. Boyce '01, chief executive officer of CMI Industry Americas Inc., will be honored Friday night with a Penn State Alumni Association 2013 Alumni Achievement Award.
The Alumni Achievement Award recognizes alumni 35 years of age and younger for their extraordinary professional accomplishments. These prominent young alumni are nominated by an academic college and invited by the President of the University to return to campus to share their expertise with students, faculty and administrators. They demonstrate to students that Penn State alumni succeed in exceptional fashion at an early age.
For the first eight years of his career, Boyce worked in engineering and marketing for Siemens Energy operations in Orlando, Fla., and Erlangen, Germany. An intern at CMI during his studies at Penn State Behrend, Boyce rejoined the company in 2008 as vice president of engineering for CMI EPTI, LLC, a division of CMI Energy located in Erie. In 2009, he relocated to CMI Energy's corporate headquarters near Liege, Belgium, to be executive vice president of engineering with global responsibility for engineering and research and development.
CMI, a leading supplier of steel-processing complexes for flat carbon steel production and equipment for processing stainless steel and long products, has been serving the global metal industries in continuous operation since 1923.
After a brief tenure as senior director of business development for Thermal Engineering International, a division of Babcock Power, Boyce returned to the Salem, Ohio-based CMI Industry Americas in his current position of CEO.
Boyce and his wife, Chris Ann, and sons Parker and Colson live in a suburb of Youngstown.
"We are delighted Dave is being acknowledged for his career successes," Kristen Comstock, the college's assistant director of Alumni Relations, said. "His achievements inspire our students, gratify our faculty and staff, and make the entire Behrend community proud. This University-wide award allows us to recognize one of the many talented young Behrend alumni whose accomplishments serve to motivate our next generation of alumni."
Boyce is the fifth Penn State Behrend alum to be recognized with an Alumni Achievement Award; suggestions for future Alumni Achievement Award nominations can be sent to Comstock at [email protected].