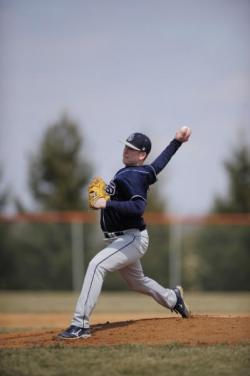 Senior Ryan Jacobs pitched a perfect game on April 14 – the first in the history of Penn State Behrend baseball.
Jacobs, of Port Vue, threw just 68 pitches in a 1-0 win over Mount Aloysius. He had six strikeouts in seven innings.
"Ryan has been a bulldog for us," coach Paul Benim said. "He's been bringing it his whole career."
His perfect game didn't look that way at the start. His first pitch was hit, cracked toward the gap near second. A teammate grabbed it for the out.
In the third inning, a Mount Aloysius batter hit a hard line drive toward third. That also was caught.
"You get into the fifth, and you start to think, 'Hey, he's got a shot,'" Benim said. The team got quiet then.
"That's how you handle it," Benim said. "You don't say anything. You don't talk about it, even though we're all thinking about it. You just stay out of his way and let him pitch."
Jacobs leads the team with a 5-0 record. For his win over Mount Aloysius, he was named Allegheny Mountain Collegiate Conference Pitcher of the Week. He also was selected as the Enterprise Rent-A-Car Athlete of the Week.
The Lions, 17-7, next face D'Youville, with a double-header Wednesday. The first pitch is at 1 p.m.