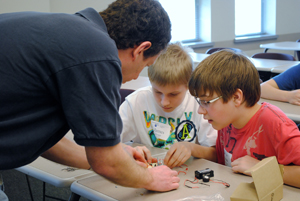 The door to Rob Weissbach's dollhouse is wired with a buzzer and a bright LED light – protection against any Weebles that might wobble in.
Weissbach, an associate professor of engineering at Penn State Erie, The Behrend College, uses the dollhouse to teach basic circuitry. On April 18, he showed it to some seventh-graders from Warren County's Eisenhower Middle School, on campus for the annual 21st Century Kids program. Then he helped them build their own buzzers.
Across the hall, another Eisenhower class got a quick history of the brown-paper grocery bag. A Massachusetts woman, Margaret Knight, is credited with inventing that; she thought a bag with a flat bottom would be more stable. In 1871, she invented a machine that made them.
Knight had to fight for her patent. When a competitor saw a prototype of the paper-bag machine, he copied the idea and got his own patent. Challenged in court, he argued that the machine was too complicated for a woman to have created it.
Knight's story is a good fit for 21st Century Kids, which offers science and engineering workshops, campus tours and dining hall meals to middle-school students from rural areas of Corry and Crawford and Warren counties. She's a good role model for girls in the program.
The bag story got the kids thinking. Then Melanie Ford, head of the Engineering K-12 Outreach Center, gave them a challenge: Using a few simple items – string, pencils, masking tape, plastic wrap – make a better bag. And make it strong enough to hold 30 miniature Tootsie Rolls.
One team folded a sheet of paper into the shape of an apple basket. It held. But when Ford added a water bottle, asking that that, too, be carried, the handle was too snug.
Kenny Glotz tried a different design. He taped the sides of two sheets of plastic wrap, punched holes in the top and threaded in a long twine handle.
He wasn't certain it would work.
"I was originally going to use a zip-lock seal, so it wouldn't spill out if you were running," he said. "But we didn't have that."
The bag held the Tootsie Rolls, and the water, and then an even larger bottle. Glotz high-fived his partner, who was eating a Tootsie Roll.
All around them, bags broke. Water bottles rolled across the floor.
Ford encouraged the students to keep trying. "Engineers never get it right the first time," she said. "Don't be afraid to scrap your idea and start again."