A sensor that will be launched on a NASA rocket and a GPS collar that will correct a wandering dog are among the senior design projects that students at Penn State Erie, The Behrend College, will present Saturday at the Richard J. Fasenmyer Engineering Design Conference.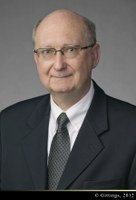 The half-hour sessions begin at 8 a.m. in the Jack Burke Research and Economic Development Center. They are free and open to the public.
The School of Engineering requires a yearlong, capstone applied design experience for each of its degree programs. This year's conference showcases the work of 197 students. Many of their projects were sponsored by leading industry partners, including Eriez Magnetics, LORD Corporation, Westinghouse Electric Co., Modern Industries and NASA.
Jim Ertl, vice president and general manager of FMC Technologies' Measurement Solutions business operations in Erie and Ellerbek, Germany, will be the featured speaker at the conference.
FMC Technologies provides technology solutions for the global energy industry. Ertl, who joined the company in 1993, has led several initiatives, including construction of a facility in Changshu, China. His talk will begin at 11:45 a.m. in Room 180 of the Burke Center, 5101 Station Road. Free parking will be available in the deck behind the Burke Center, off Technology Drive.
The Fasenmyer conference is named for the late Richard J. Fasenmyer '69, a longtime supporter of Penn State Behrend's School of Engineering. He founded RJF International Corp., a world leader in the manufacture and distribution of interior wall coverings, industrial matting products and specialty films.