Victory Media, publisher of GI Jobs magazine, has again recognized Penn State Erie, The Behrend College, as one of the most supportive academic environments for U.S. service members, veterans and military spouses.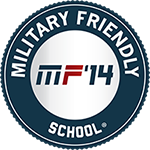 The publisher's 2014 Military Friendly School rankings place the college among the top 20 percent of Veterans Affairs-approved institutions based on the services and resources they offer to military-connected students. At Penn State Behrend, those resources include scheduling assistance, VA-paid tutoring and a full-time financial aid counselor assigned to veterans.
"Penn State Behrend is committed to making sure our veteran students find success in and out of the classroom," said Mary-Ellen Madigan, the college's director of enrollment management. "We have comprehensive services for them, including a one-stop office that offers complete admissions, financial aid and academic support."
The college also is committed to the next generation of veterans. Penn State Behrend and its partners at Gannon and Mercyhurst universities staff and support the U.S. Army ROTC "Pride of PA" Battalion, one of just eight programs to receive the General Douglas MacArthur Award for excellence during the 2012-13 academic year.
View the full list of Military Friendly Schools or see the methodology used by Victory Media.