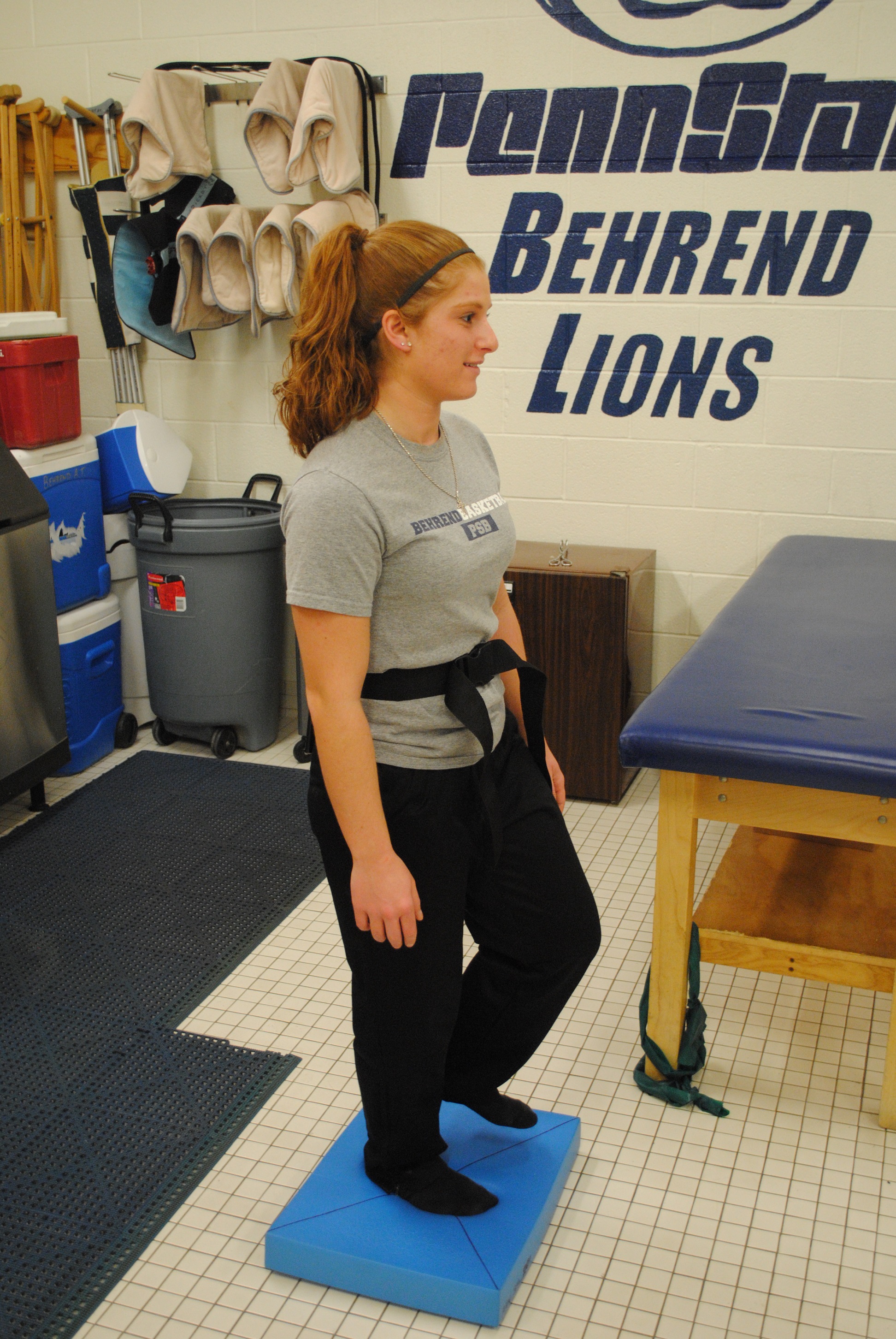 Jeff Webster has served as the head athletic trainer at Penn State Erie, The Behrend College, for nearly 20 years. Plenty has changed over that span, yet his biggest challenge remains the same.
"Concussions are the single-most frustrating thing we deal with," Webster says. "We can monitor them, but there's only so much we can do."
That's the reason why advancements in concussion research are welcomed in the sports medicine field. It's also the reason Webster and his staff are so excited about a new pilot program at Penn State Behrend.
At the request of Saint Vincent Hospital and the Allegheny Health Network, Penn State Behrend Sports Medicine has begun implementing C3 Logix concussion testing. Conducted via iPads, C3 Logix testing is different from the more conventional ImPACT testing.
The program was developed by iComet Technologies, a Cleveland Clinic Innovations spinoff company, and includes a computerized neurocognitive exam. Unlike ImPACT testing, C3 Logix includes a balance component.
"The balance component is big to me," Webster says. "With the built-in gyroscope, that's something you just can't cheat."
The Balance Assessment is just one of eight different workflow steps included in the C3 Logix test. Others include: Graded Symptom Checklist, Standardized Assessment of Concussion, Visual Acuity, Processing Speed Test, Simple Reaction Time, Choice Reaction Time and Trail Making Test A & B.
The Balance Assessment is crucial for establishing a baseline. For that part of the test, the iPad is strapped to the back of the test subject, and he or she must then participate in a series of balance exercises. Once a baseline is established, symptoms are more easily detectable when someone retakes the test if a concussion is suspected.
So far, the C3 Logix testing has been used on members of the men's and women's soccer teams, the women's volleyball team and the men's and women's basketball teams.
"We're being a bit more selective as we're still in the research phase," Webster says. "This is a fairly new program, and there's still a bit more information we need to get research-wise."
The other challenge is time. The tests take about 20 minutes per person, so multiple iPads are needed to conduct tests on an entire team at once.
Rachael Razzano, a sophomore accounting major on the women's basketball team, is one of the athletes who has benefitted from the C3 Logix testing after suffering a concussion.
"I really liked it," Razzano says. "I thought it was really effective and efficient. After my concussion, it helped the athletic trainers recognize that I had a vestibular concussion, and they sent me to vestibular therapy. The therapist gave me exercises that improved my symptoms and allowed me to return to activity."
"From our end, recognizing the vestibular aspect of the concussion made treatment more effective," Webster says. "Had it not been for the C3 Logix program, we may have delayed the process even longer. Those prescribed exercises dramatically improved her visual acuity scores and allowed her to become symptom free faster."
It's this series of tests that has Webster and the entire Penn State Behrend Sports Medicine staff most excited about the C3 Logix's potential. Concussions remain one of the most difficult injuries to treat, but this could be a step in the right direction.
"It gives us an opportunity to see how close to baseline you really are post-concussion," Webster says. "You could look normal, feel normal and say you're normal, but now we can see cognitively where you stand. This will definitely help us, but it's still just a small piece of the bigger puzzle when treating concussions."