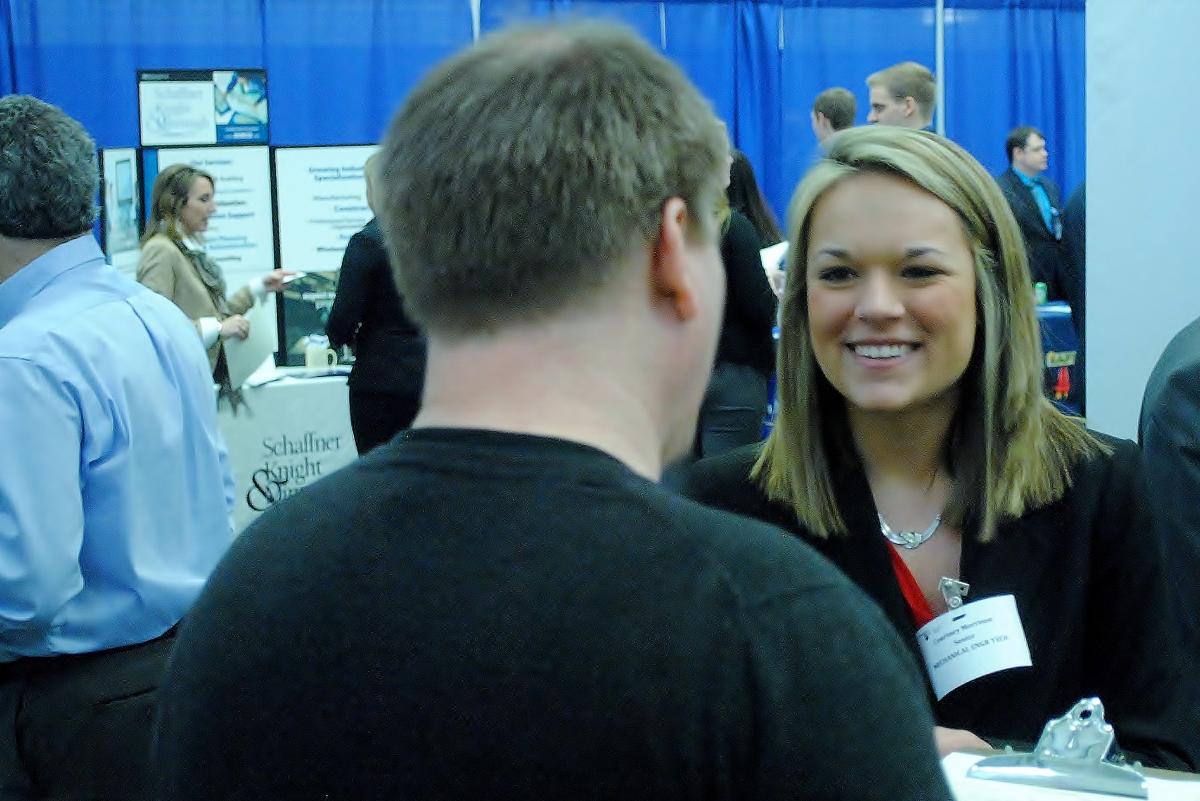 A career fair might not seem like the ideal place for a baby stroller, but Tom Lulich and Bob Pike had the right idea.
The pair proudly displayed a power-folding stroller that opens and closes at the touch of a button Thursday at the Career and Internship Fair at Penn State Erie, The Behrend College.
"When you fold this stroller, people across the room say, 'Wow, what is that?'" Pike said. "We want to draw people in."
Lulich and Pike, who work as quality manager and engineering manager, respectively, for 4moms, a Pittsburgh-based company that develops innovative baby products, represented one of the 149 companies that attended the fair that is organized by the Academic and Career Planning. The companies were seeking the best and brightest amongst the 650 student attendees.
Nearly every employer at the fair lined their tables with items or "swag" to help draw in students. Pens, mouse pads, candy — there was no shortage of variety.
FMC Technologies, for example, placed oil-drop stress ball figurines on its tables. The figurines were appropriate given that FMC Technologies supplies equipment to the oil and gas industry, but there was also an ulterior motive.
"We have to set ourselves apart," said Haley Smart, talent acquisition specialist for FMC Technologies. "We want to be seen as the cool company."
Across from the FMC Technologies booth, Henry Oldach manned the LORD Corporation table. Oldach, who works as an engineer in the Career Foundation Program at LORD, was giving out phone stands embossed with the LORD logo.
"I don't think the swag really helps impress students in regard to the company, but it helps to bring people here to talk to us," Oldach said. "It helps start the conversation where we can discuss all of the cool things that we do at LORD."
Sometimes a conversation starter is all it takes.
Senior Management Information Systems major Gillian Groff has attended numerous career fairs as a student at Penn State Behrend. She was seeking an internship this year, and she knew what companies might first draw her eye.
"Free giveaways are always a plus," she said.