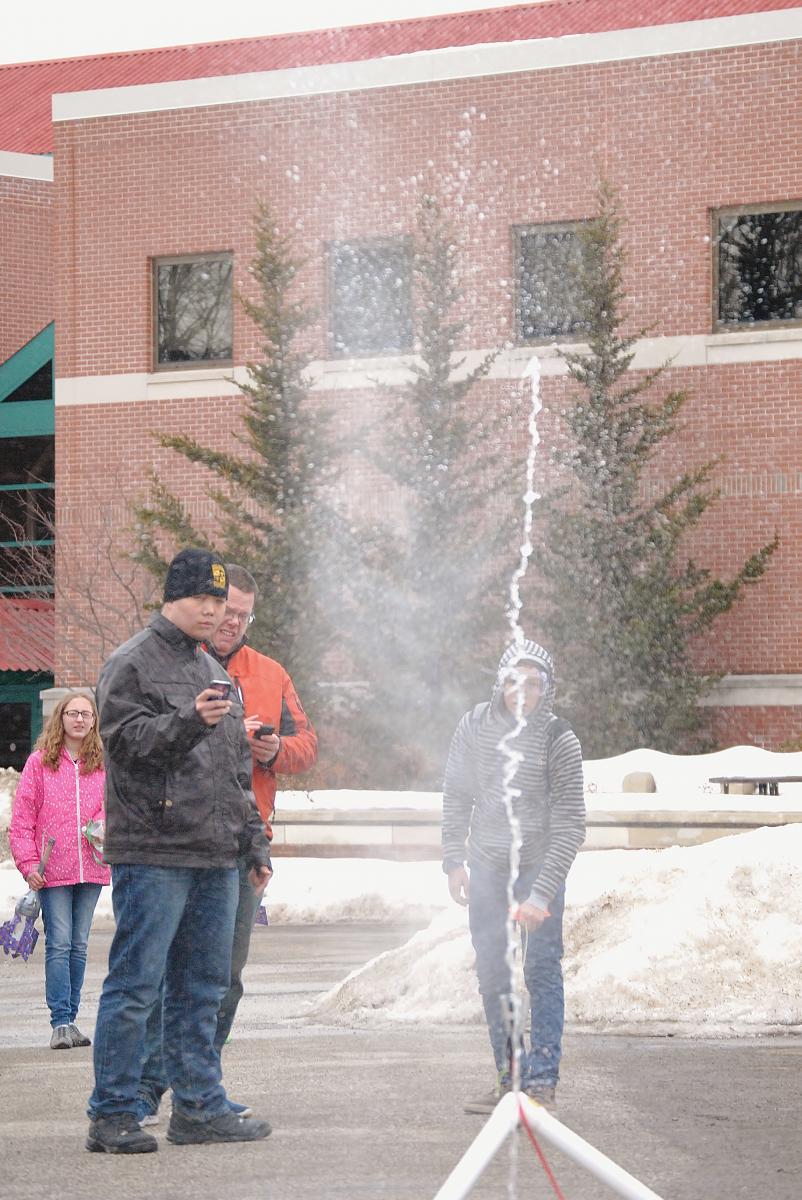 Shyler Abbey's science project – a knot of K'NEX rods, switches and fishing line – was built to ring a buzzer, which Shyler, a senior at Seneca High School, had set near the bottom of a cardboard box.
It was not particularly efficient. To make the sound, Shyler and her partner, Halie Lewis, dropped a golf ball, which rolled into a plastic jug, which broke some tissue paper, spilling a handful of tiny copper balls, which completed a circuit, starting a motor and lifting a second golf ball into another jug. That knocked over a water bottle, tilting a flask that dripped sodium bicarbonate onto some acetic acid. The reaction produced carbon dioxide, which inflated a balloon, which pushed yet another golf ball into a toy train, which carried a burning candle under some fishing line, which melted, dropping a weight that closed the circuit that turned the motor that powered the flashlight that activated the photocells and – Ta-da! – rang the buzzer.
That's what happened in practice, anyway.
"When we did it for real," said Halie, also a senior, "pretty much everything went wrong."
The Science Olympiad is plagued by false starts. The ping-pong ball cannon misfires. The rubber-band glider crashes into a ceiling light.
"That's part of the process," said Chuck Yeung, professor of physics and coordinator of the northwestern Pennsylvania Science Olympiad, which brought approximately 350 middle- and high-school students to Penn State Erie, The Behrend College, on March 10. "When you encounter a problem, you make an adjustment. You learn by working through it."
The Science Olympiad is run like an academic track meet: The program rewards teamwork while involving a wide cross-section of students with different interests and academic strengths. This year's competition, which included teams from Erie, Crawford, Clarion, Jefferson, McKean and Allegheny counties, tested students' knowledge of astronomy, cell biology, entomology, topography and forensics, among other topics.
"We're trying to get kids involved in science beyond the classroom," said Roger Demos, the state director for the Science Olympiad. "We do that with hands-on, competitive events that allow us to recognize and encourage their interests and abilities in the same manner that others celebrate the athletes in their schools."
Erie Hall served as pit row for the teams, whose members tweaked their egg-drop parachutes and maze-navigating robots throughout the day. As Shyler worked a postmortem on her Rube Goldberg buzzer box, she talked with the other teams, which had developed their own complicated processes, all of which showcased the transfer of energy.
"I really look forward to this event," she said. "I like it when people like me can get together and compete. Even if your project doesn't work, you still learn something."
She'll have at least one more chance: Seneca advanced to the state competition, which will be held in April at Juniata College.