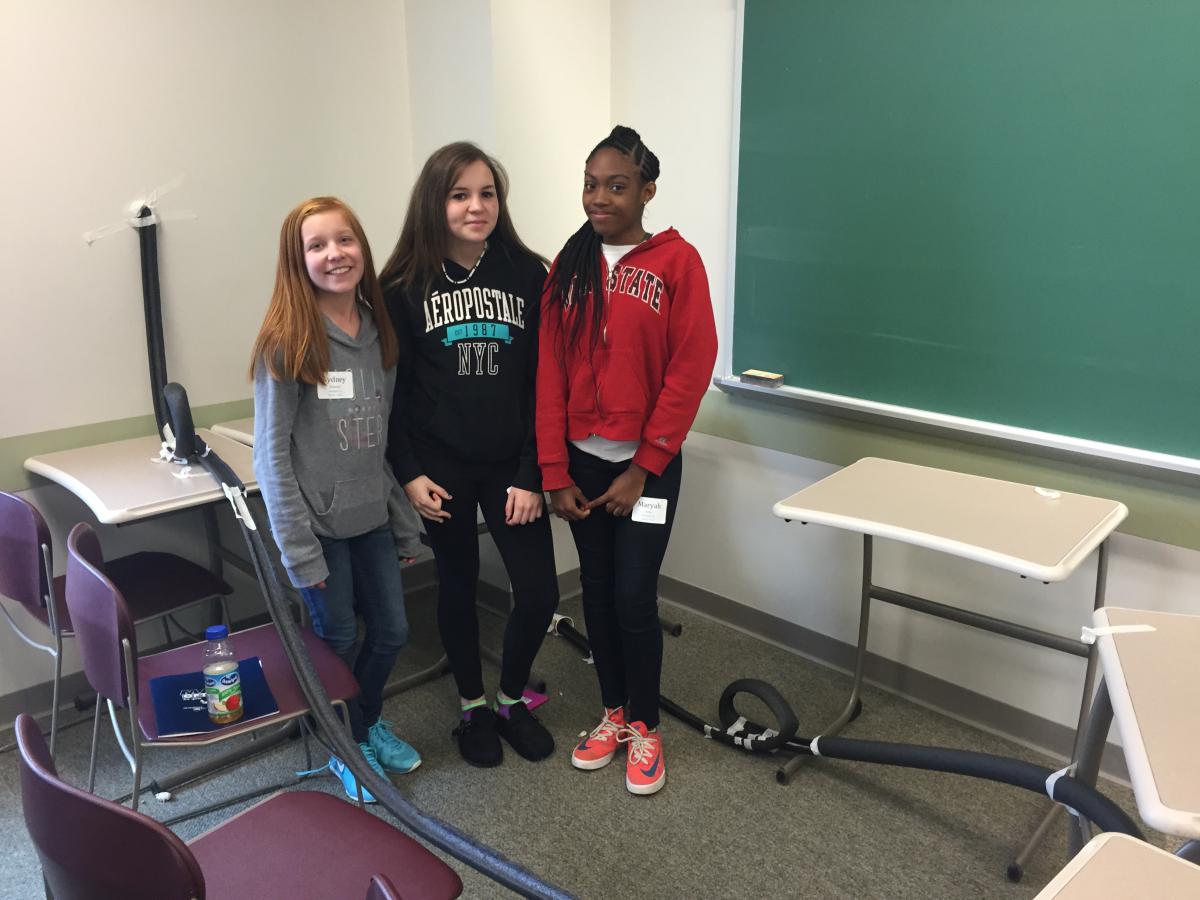 With just 30 seconds left in the Physics of Rollercoasters competition, Sydney Schuster, Gabriella Haines and Maryah Jones made their final preparations.
"Is it taped everywhere? I feel as if this is somewhat of a risky ride," Jones said as she quickly moved to add extra layers of tape to the track, which was built with foam pipe insulators.
"Oh, no! It came apart!" yelled Schuster as one insulator broke free from the table it was taped to.
With the clock ticking, the JoAnna Connell School seventh graders were faced with a problem and needed to configure a solution. That's the purpose of the exercise. Engineers must think quickly on their feet, and these girls learned that firsthand.
Physics of Rollercoasters was one of more than 25 hands-on workshops that 240 seventh- and eighth-grade girls participated in during the 19th annual Math Options Career Day at Penn State Erie, The Behrend College, on Tuesday, May 12. Girls came from schools in Erie, Crawford, Potter and Warren counties as well as Chautauqua, New York, to participate in the program, which is designed to expose them to careers in science, technology, engineering and mathematics – fields that generally are dominated by men.
Professionals from GE Transportation, LORD Corporation, Erie Insurance, Allegheny College and Adam J. Trott Architect presented the workshops to the girls, who came from 40 different schools. The day's festivities were sponsored by Ford Motor Company, The Erie Community Foundation, Larson Texts, Inc., United Refining Company and Penn State Behrend's School of Engineering and School of Humanities and Social Sciences.
For the Physics of Rollercoasters workshop, the presenters were Genna Gold and Nicole Himmelwright, both part of the Engineering Leadership Program at GE Transportation.
"We didn't have anything like this when I younger, so it's nice to help build the future of engineers," Gold said. "Working to inspire these girls to follow their passion is very important to us."
For this particular workshop, participants were given 20 minutes to create a rollercoaster for a marble to travel on, using only pipe insulators and tape. Teams gained one point for every second that the ride lasted and additional points for adding obstacles to the coaster, including 90-degree turns, 180-degree turns, 270-degree turns, hills, jumps, loops and corkscrews. The ultimate goal was to have the marble fall into a cup at the ride's conclusion.
The coaster that Schuster, Haines and Jones designed began with a steep drop before looping, heading downhill, making a sharp 180-degree turn and then ending with one final loop.
"We wanted to have it loop right at the beginning because then we'd have more speed at the start," Schuster said.
Despite the complications the girls faced in the workshop's final minute, the trio moved quickly, using tape to reattach the coaster to the desk. Overall, their marble traveled for 5.5 seconds, and the group finished with 65.5 points, good for second place in the competition.
"I feel accomplished. And we got second place. I'm happy," Jones said.