The Early Learning Center at Penn State Erie, The Behrend College, has retained its accreditation as a National Association for the Education of Young Children (NAEYC) Academy for Early Childhood Program—a voluntary standard the center has maintained since its initial accreditation in 2005.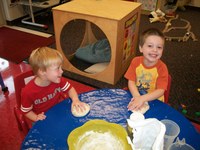 "This is the highest national accreditation standard a child care program can aspire to," Eunice Moore, director of the Early Learning Center, noted. "Participation is purely voluntary and requires a serious investment of staff time and resources, but we feel strongly that maintaining NAEYC accreditation reassures our families that we are committed to providing the highest quality care and education of their children."
NAEYC requires an early childhood program to complete four steps to achieve its initial accreditation. Once accredited, programs are required to submit annual self-study reports, make continuous quality improvements, and maintain changes in NAEYC standards and criteria. Accredited child care centers even are subject to random, unannounced on-site visits. NAEYC Academy for Early Childhood accreditation requirements were developed with input from early childhood educators and are designed to increase the accountability of the system for children and their families.
The Penn State Behrend Early Learning Center opened in the fall of 1993 and has been in its current location in Knowledge Park since 2001. The center provides services for children between 6 weeks and 6 years of age with staff-to-child ratios that exceed those required by the Commonwealth of Pennsylvania.