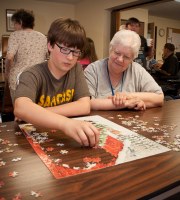 The Positive Youth Development program was designed by the Susan Hirt Hagen Center for Community Outreach, Research and Evaluation (CORE) at Penn State Behrend. It builds a safety net of common-sense developmental assets – family support, adult mentors, after-school activities – to keep students engaged in the learning process.
"If you give kids a sense of hope and a vision for their future, they are far less likely to drop out of school or get pregnant," said Carl Kallgren, associate professor of psychology at Penn State Behrend and director of CORE, one of three dozen outreach centers and programs operated at Penn State Behrend for area school students, business and industry and the community. "When they know someone cares for them and believes in them, they try a lot harder to make the right choices."
He has data to back that up. CORE's work in the Union City schools has cut truancy and drop-out rates by more than half since 2006. It also has knocked the district's teen-pregnancy rate to a 10-year low.
"You can look at the numbers," said Bill Jackson, president of United Way of Erie County. "What they have done there is very impressive."
A Positive Youth Development coordinator – a CORE employee – spends at least three days a week in the Union City schools, working with teachers and students. She mediates disputes and recruits adult volunteers, who bond with students over fishing poles or jigsaw puzzles.
"There's more to it than just keeping kids in their seats," Jackson said. "It's about building them up and helping them succeed as individuals."
Carlos Ramirez, another CORE youth educator, is adapting the program for Strong Vincent's students. He has an office in the school.
"I'm there every day," Ramirez said. "I give them a lot of face time, a lot of talk-time. They need that. A lot of these kids don't know why they're in school to begin with."
His goal is to increase the school's graduation rate by at least 30 percent. He also hopes to cut district court truancy referrals by half by 2015.
The program's success in Union City offers a template for that. The problems students bring to Ramirez have not been much different.
"It's just what you'd expect," Scherry Prater, the principal at Strong Vincent, said. "Substance abuse, teen pregnancy, violence … These are issues our students struggle with every day."