Ethan McCarthy's fingers rattled up and down the keyboard as his eyes fixated on the computer monitor. He was trying to move a small, square-shaped character from one platform to another without it falling into a pit of nothingness.
"You basically have to jump from block to block, but some of the blocks are invisible, so you can't see them," the 9-year-old, a student at McKean Elementary, said. "Then there's this boss you face, and there are these shields, but they can't hurt you. They're meant to protect the boss, but you can deflect shots off the shields."
Got that?
McCarthy had an intuitive, second-nature sense of the game. He maneuvered the character to the top platform as if he had drawn the map and plotted all the obstacles. In fact, he had.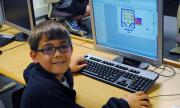 McCarthy was one of more than 20 eight- to 10-year-olds who attended the "Making Video Games" College for Kids class at Penn State Erie, The Behrend College. More than 1,200 children between the ages of 6 and 16 are enrolled in this year's College for Kids, the summer youth program at Penn State Behrend.
For McCarthy, "Making Video Games" was a perfect fit.
"I don't want to just play video games. I want to make video games," he said. "My mom mentioned this class, and I was like, 'Oh my gosh, I have to take it.'"
Students created the games using Construct, an HTML5-based 2D game editor. Penn State Behrend students use the program in courses for the college's game development minor.
"They start with a template and then learn how to build on it with a little bit of coding," said Heather Cole, lecturer in digital arts and the instructor for "Making Video Games." "Once they have their original video game, they can take it home with them and test it for their parents."
There was no shortage of creativity among the young game designers. Hunter Shoop, a 10-year-old fifth-grader at Iroquois Elementary School, created a game he called "The Steelers Game."
"You get past levels by doing all of the things that the Pittsburgh Steelers do: pushing things, running and jumping to get a football just like the Steelers do," Shoop said.
By the week's end, students were excited by their game creations and the possibility of making something even better in the future.
"I learned how to make a game," McCarthy said. "I never thought I could make a video game at this young age, but I did. That's basically a dream come true."