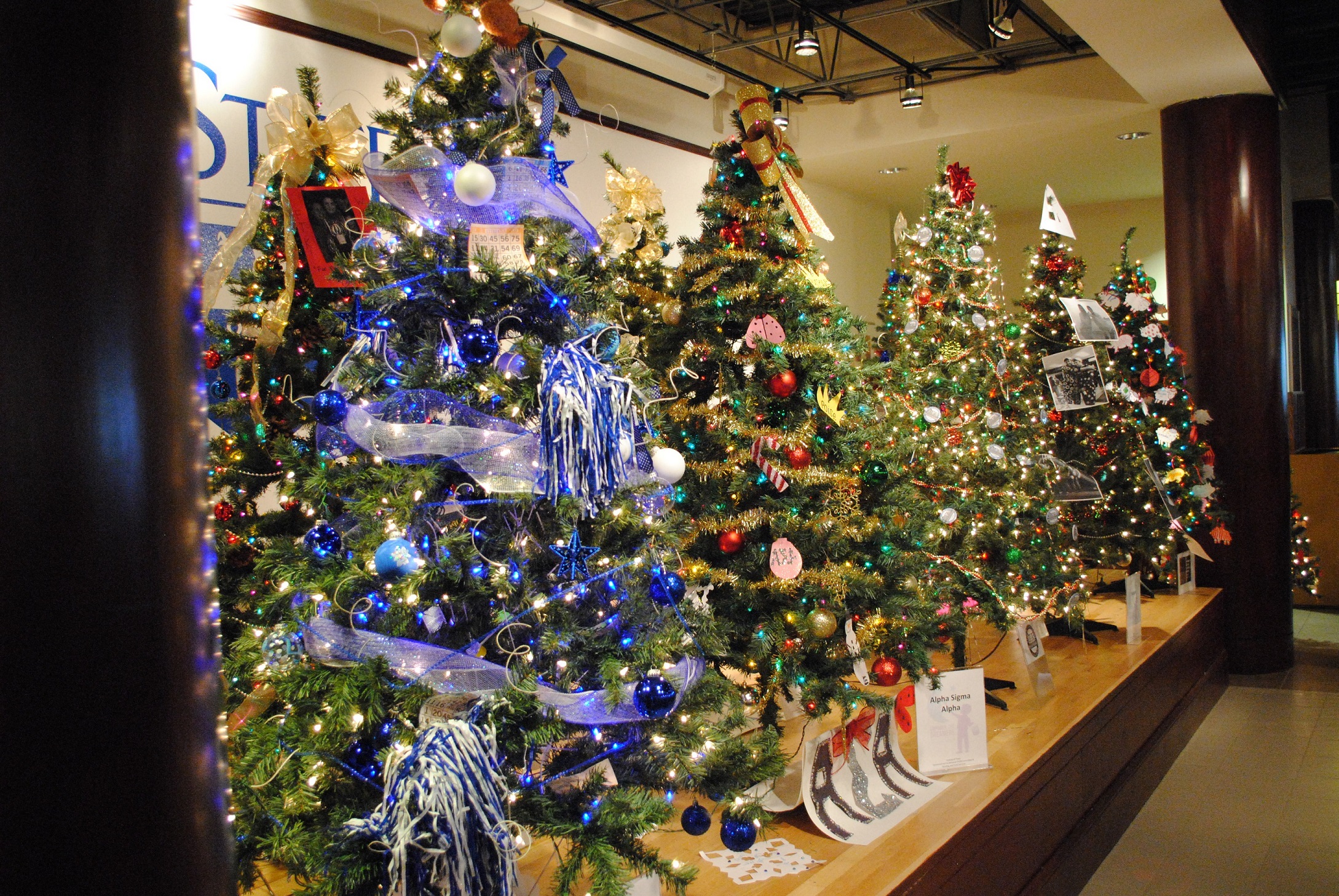 Nothing signifies the holiday season like bright lights and a little benevolence.
Come to Bruno's Café this week and you'll get to see both.
In honor of the holiday season, Housing and Food Services at Penn State Erie, The Behrend College, has teamed up with the college's THON committee to sponsor a Penn State Behrend Festival of Trees fundraiser for THON. Housing and Food Services purchased 12 six-foot trees that were provided to student groups to decorate.
"All of the various organizations decorated their tree together, so it was nice because it brought the groups together even more during the holiday season," said Alexandra Laffey, a sophomore mechanical engineering major and fundraising captain for Behrend's THON committee.
After all of the trees were decorated, they were then displayed atop the stage in Bruno's on Monday, Dec. 8. Beginning on Thursday, Dec. 11, from 11 a.m. to 2 p.m., students, faculty members and staff can vote for their favorite tree by donating money to that group's THON can that sits next to the tree. Voting will take place during the same time period on Friday.
All proceeds raised from the fundraiser will be donated to the Behrend THON collection fund. The three trees that receive the most votes will be displayed through Thursday, Dec. 18. All of the trees will also be on display at the Behrend Appreciation Dinner on Thursday, Dec. 11.
"From a Housing and Food Services perspective, it's another opportunity to work with students," said Mike Lindner, director of Housing and Food Services. "It definitely makes the space at Bruno's feel a little more festive, too."
Participating groups for this year's Festival of Trees include: Alpha Sigma Alpha, Gamma Sigma Sigma, Triangle, Phi Sigma Rho, Lion Ambassadors, Student Government Association, Lion Entertainment Board, Alpha Sigma Tau, Lambda Sigma, TPA, Behrend THON and Housing and Food Services.
"For the first year, I think it's gone really well," Laffey said. "A lot of people have noticed it and are drawn into Bruno's. Hopefully it continues next year."