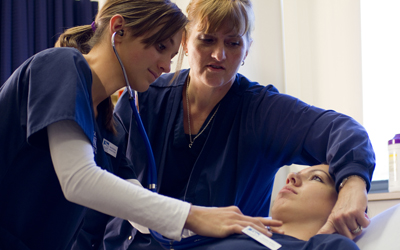 Enhanced program will replace 2-year associate degree
March 18, 2013 - Penn State Erie, The Behrend College, will begin offering a four-year bachelor of science nursing degree in 2014. The program, which replaces the two-year associate degree, better aligns with the projected employment patterns in an increasingly complex health-care system.
The nursing programs at Penn State's Altoona, Fayette, Mont Alto and Worthington Scranton campuses also will transition to the four-year program, with classes beginning in fall 2014. The final class of two-year associate degree students will be admitted at that time.
The Pennsylvania State Board of Nursing has endorsed the move. Data from the Institute of Medicine, a division of the National Academy of Sciences, also supports it: The institute's Future of Nursing Report recommends that 80 percent of all nurses have, at minimum, a baccalaureate degree by 2020.
"Our health care system is complex and changing in ways that expand the role for nurses in a multitude of care settings," said Jo Anne Carrick, coordinator of the nursing program at Penn State Behrend. "Nurses will need additional education and skills to address these changes."
Penn State Behrend will continue to offer its popular RN-to-B.S. degree completion program, which uses a blend of in-class, web-enhanced and online courses to advance diploma and associate-degree nurses to a bachelor's degree in just three semesters. Enrollment in that program has doubled in the past year, reflecting local employers' interest in baccalaureate-prepared nurses.
For additional information about Penn State Behrend's new four-year program, contact Jo Anne Carrick at 814-898-7583 or [email protected].