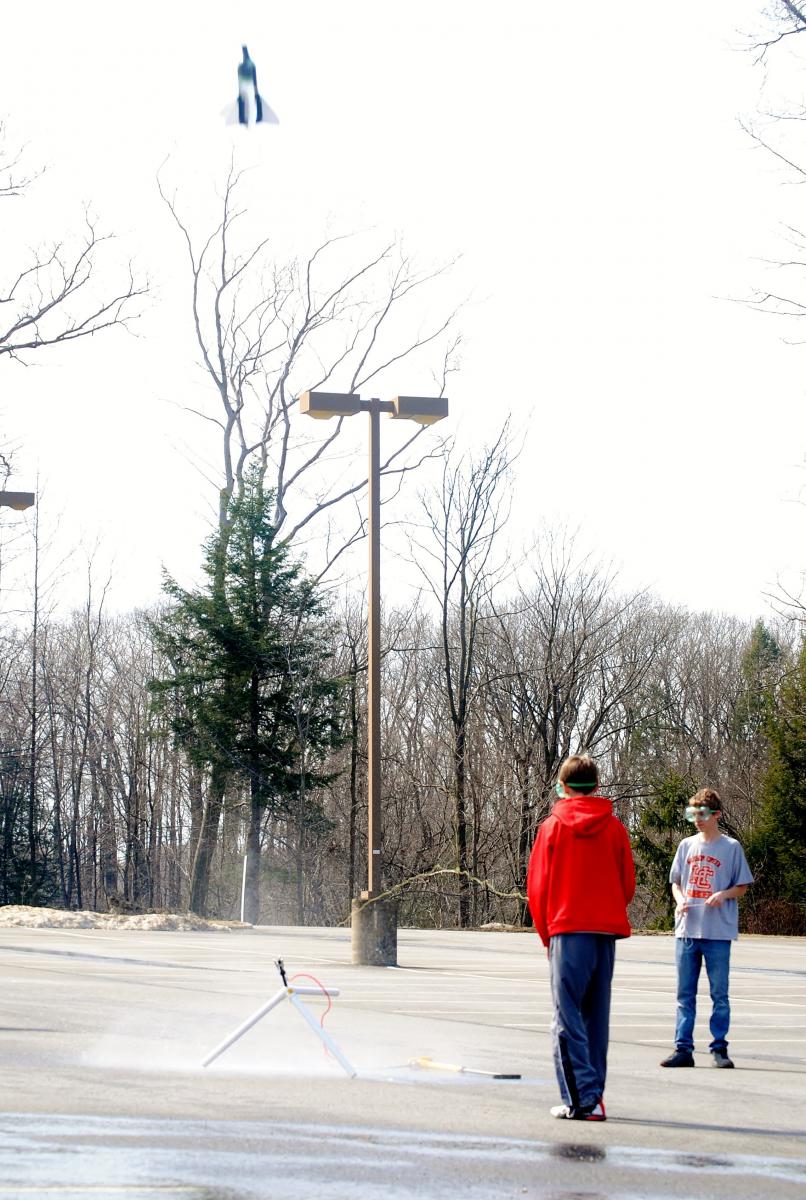 For more than four months, Kolby Duer and Gary Langer-Williamson worked on crafting the perfect bottle rocket to enter into the 2016 regional Science Olympiad.
For the pair of Harbor Creek Junior High School eighth grade students, it was a process of devising, refining and perfecting a design. They both admit, however, that the months-long process was well worth it once their rocket took flight.
"It was so fun," Langer-Williamson said.
"We felt really good about this," Duer added. "I actually had my doubts going into it, but when it went off, it actually worked out pretty well. We're really happy."
The bottle rocket competition was one of 46 science-related events that more than 400 area middle- and high-school students participated in at the regional Science Olympiad, held Tuesday, March 8, at Penn State Behrend. A total of 23 different school districts attended the event.
From early morning through the afternoon, students launched rockets, dropped eggs with a bungee, raced custom-built wheeled vehicles and tested their science knowledge in a number of different events.
The scientific method and process of testing a hypothesis was a key theme emphasized during the Science Olympiad, and that was especially true in the bottle rocket competition. When constructing the rocket, participants needed to also create a vessel to protect an egg. Every rocket had to be created from a two-liter plastic beverage container and no glue of any kind could be used. Teams gained points for the length of their rocket's flight and for the egg surviving the fall.
"You want your rocket to be lightweight but also sturdy," Langer-Williamson said. "You basically take everything from weight, aerodynamics and thrust into account."
Duer and Langer-Williamson differentiated their rocket from the competition by utilizing a long, narrow nosecone. That was no accident.
"When the rocket starts to come down, (the nosecone) allows more resistance to slow it down, so the egg is safe," Duer said.
The duo's rocket finished in fourth place in Division B (grades 6-9) during the competition, and their egg did survive the fall. It was a satisfying conclusion to what had already been a very rewarding day.
"This has been great. All the science is so fun," Langer-Williamson said. "It allows me to think and focus on something that I want to learn and want to do in the future."