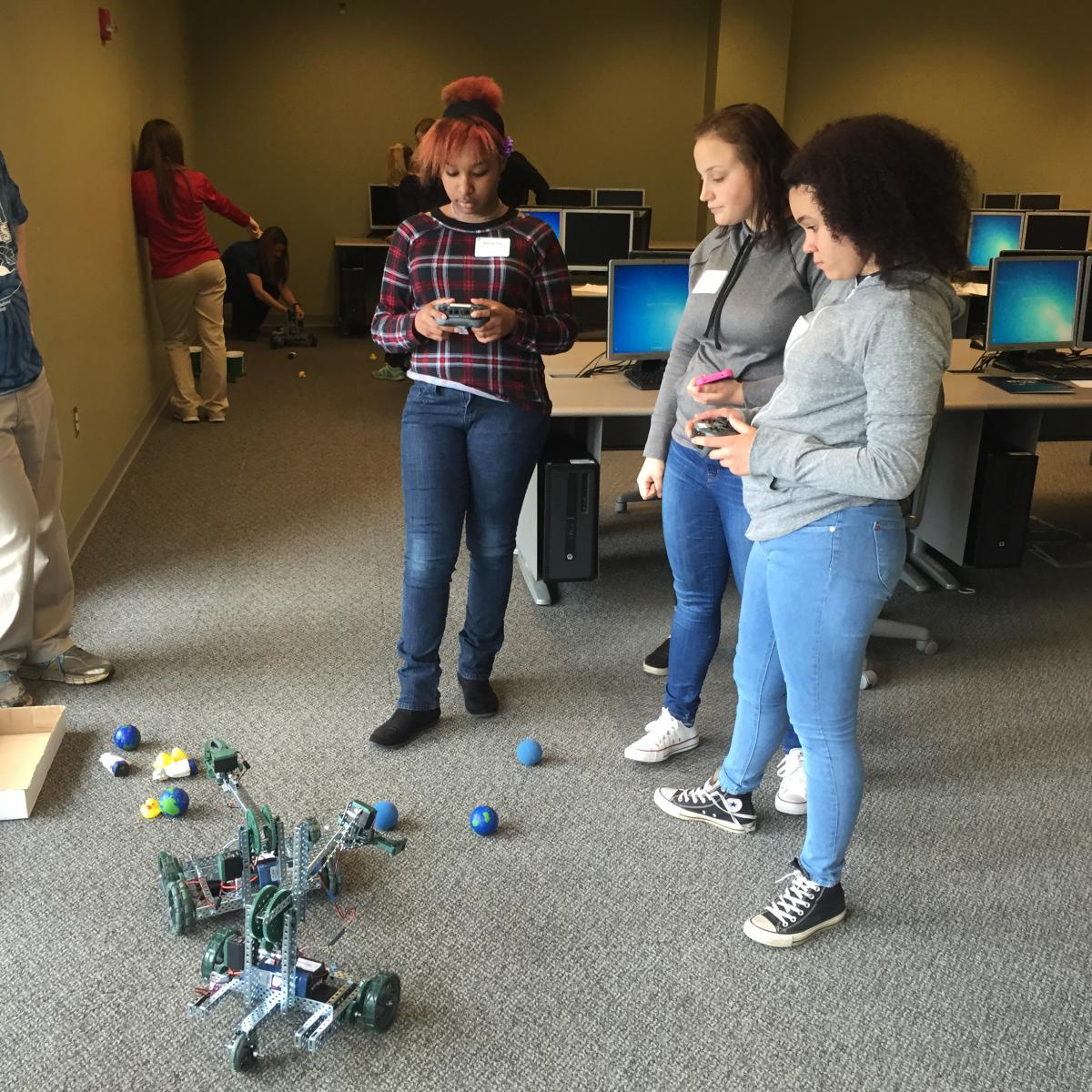 Mariah Lucas took a close look at the controller that lay before her. She had played video games before, but this was different. This controller operated a live robot created with a VEX robotics kit.
Mariah had some trouble moving the robot at first but quickly adjusted.
"Oh, that's how you do it! I have to use both of these joysticks to make it go straight," the eighth grade student from Wilson Middle School said. "I'm having so much fun with all this stuff. I never really thought about all the different things I could do until today."
Lucas' enthusiasm came from participating in the VEX Robotics workshop at the 20th annual Math Options Career Day at Penn State Behrend on Tuesday, May 10. Her eagerness and curiosity was indicative of why Math Options was created two decades ago: to expose young girls to careers in science, technology, engineering and mathematics – fields that generally are dominated by men.
"When we started Math Options, our only goal was to encourage students to continue to challenge themselves with math and science courses in high school so that they have more options when they go to college," said Melanie Ford, director of Youth Outreach Education at Penn State Behrend. "We now know that many of the students who have attended Math Options over the years have pursued degrees in STEM. Just giving them a chance to explore the options available to them is an invaluable experience."
More than 215 seventh- and eighth-grade girls from Erie, Crawford, Potter and Warren counties participated in this year's program. Penn State Behrend faculty members and professionals from GE Transportation, Erie Insurance Group, LORD Corp. and Larson Texts presented more than 25 hands-on workshops to the girls, who came from 38 different schools.
In the VEX Robotics workshop, participants tested several different robots, which they used to pick up items and move them into a box. Asialynn Noyer, also an eighth grade student at Wilson Middle School, quickly learned that the placement of the robots' handles often made it difficult to pick up items. This was the case when she attempted to move a tiny, yellow rubber duck into a box.
"Sorry ducky!" Noyer said. "The angle (of the handle) makes it tough. If it were straight, I would be able to reach out and get it, but I can't get it. It's just too low."
While testing the robots, participants took notes on which worked best and why. They met afterwards and concluded that when maneuvering the robots, it was better to go slow as opposed to fast. They also decided that the three-wheel robots worked best.
"It's really nice to introduce students to things they wouldn't always see," said Stephen Strom, a lecturer in engineering and the facilitator of the VEX Robotics workshop. "This is a great way to use a hands-on approach for them to experience something new and different while also having some fun."