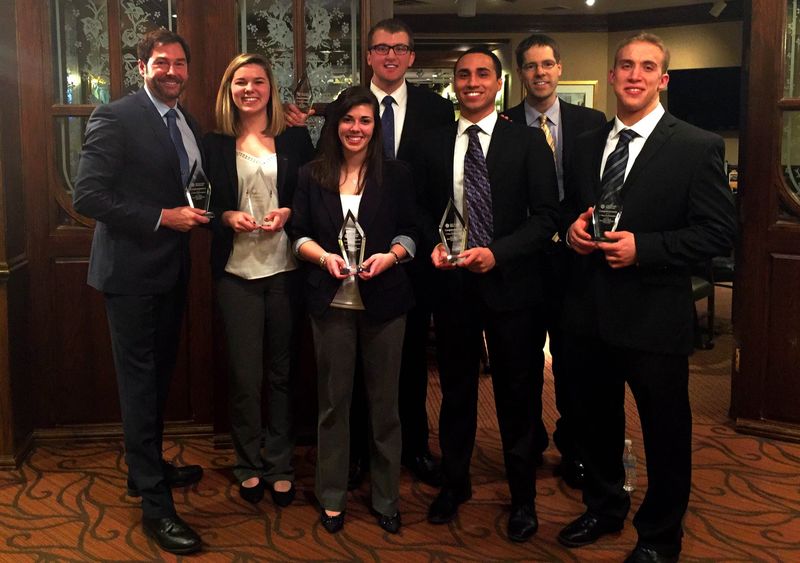 ERIE, Pa. — A student investment team from Penn State Behrend's Black School of Business reached the regional finals of the Chartered Financial Analyst Institute's Research Challenge in Chicago on April 13, topping teams from nearly 1,000 other schools.
The team was knocked out of the competition by the University of Waterloo, in Ontario.
The Penn State Behrend team — Drew Barko and Kelsey Schupp, of Erie; Samantha Chiprean, of Wattsburg; Eric Frei, of Poulsbo, Washington; and Ricky Grullon, of Ridgewood, New York — developed a detailed financial report and one-year stock valuation for Dick's Sporting Goods, the nations' largest sports apparel, footwear and equipment retailer. They recommended a "buy" strategy for the company, which has 645 stores.
The team's members each spent more than 130 hours preparing for the initial competition, which was held in Pittsburgh in March.
"That's how you really learn about this stuff," Schupp said. "In class, with a traditional case study, everything you need is in the case file. This was different. We had to go out and find the information for ourselves."
In Pittsburgh, the team competed against students from the University of Pittsburgh, Carnegie Mellon University, Duquesne University and Penn State's University Park campus. In Chicago, where they won an initial round of regional competition, which cut the number of teams from 106 to just 21, they outperformed students from Loyola University Maryland, Binghamton University and Universidad Argenia de la Empresa, in Buenos Aires.
"The performance of our team is a testimony to the high caliber of our students and the excellent instruction they receive from our faculty," said Greg Filbeck, associate director of the Black School of Business and the team's adviser.
The CFA Institute started the global research challenge, which is considered the "investment Olympics" for university students, in 2006. Teams are paired with an industry mentor, who can provide up to six hours of advice, and meet with top executives of the company during a due-diligence session for financial analysts.
Contact
Robb Frederick
Assistant director, news and information, Penn State Behrend