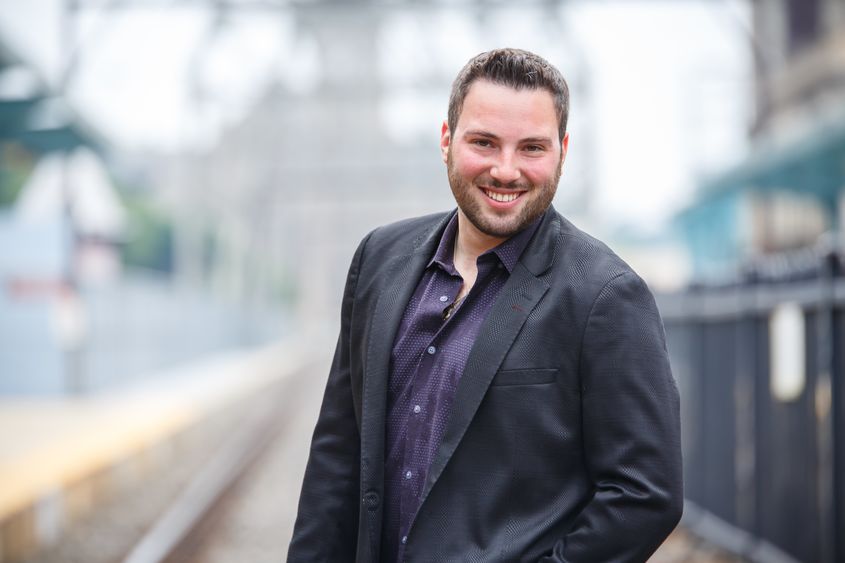 Life is defined by moments, but for Penn State graduate Dylan Weisman, his entire entrepreneurship journey has been on an incline.
Weisman has the go-getter mindset, the entrepreneurial tick that reimagines any industry he dabbles in.
So far, he's been a campus counselor. He's been a festival organizer. And, he's even been the proud owner of a small DJ business. At age 16, Weisman traded in shares for his current entertainment endeavor — Flare Event Group — growing it 500 percent in the past six years.
Weisman credits his success largely to Penn State's Intercollege Minor in Entrepreneurship and Innovation (ENTI). Alongside just four other peers, Weisman was accepted into the inaugural program at Penn State Abington during his sophomore year.
The minor is also available at Penn State Erie, The Behrend College; Penn State Berks; and University Park; and was just launched in fall 2017 at Penn State Beaver.
"There was never a turning point for me because it was all moving up and toward an end goal," said Weisman, a 2016 graduate in business management and marketing with a minor in the ENTI New Ventures cluster.
"Every moment spent in that program was something that helped me better myself, whether tangibly or intangibly. Penn State did the best job of developing my entrepreneurial thinking and advancement by putting me through exercises of real application."
Weisman opted to attend a commonwealth campus near his hometown. That way, he could focus on both his studies and Flare Event Group — forming a dynamic interplay between academic and professional development.
"It was a really great marriage because it threw me into a campus that was extraordinarily diverse and had this entrepreneurial aspect to it," he said.
"He chose not to graduate early — he graduated on time in order to join the ENTI minor," said Hunter Most, a lifelong friend of Weisman's. "Of all the courses he had to take throughout college, the concepts he learned in entrepreneurship are what he uses everyday."
Between classes, Weisman often found himself chatting with classmates or professors, trying to learn as much as possible about entrepreneurship. In the early days of the ENTI program, Weisman spoke with professors about his enthusiasm for the curriculum, constructed to embrace a collaborative atmosphere. It was no surprise that he thrived in that arena.
"My experience at Penn State really comes down to the faculty," Weisman said. "They viewed me as a brilliant mind and made sure I knew that. It was a confidence boost."
Dan Goldberg, an entrepreneur, lecturer in business, and the Lead Faculty Member of the ENTI program at Abington, said Weisman is more than a former student — he's a good friend. Goldberg regularly invites Weisman to present to his classes, and the two are on the Entrepreneurship and Innovation Intercollege Minor Board, which Goldberg founded and chairs.
"Dylan is an inspiration to a lot of the students," Goldberg said. "He is enthusiastic, bright and intelligent. He runs a successful business and is always willing to learn more. He's just a wonderful, wonderful person and a great communicator."
But to thrive in Weisman's mobile entertainment industry, communication is only one vital part of the equation. Operating Flare Event Group is about exuding energy and passion, Weisman said. When his interactive production company brings the party and talent to clients, emotion is a powerful metric.
"We are providing a fresh and young perspective, while continuing to elevate the bar on the customer service side, " Weisman said.
Plus, the company's former owner — now silent partner — is still on hand to share 30 years' worth of experience. One day, Weisman said he also hopes to be an influential mentor to entrepreneurs.
"Dylan likes to help people grow," said Most, who graduated from Penn State in 2016 with a degree in industrial engineering and minors in engineering entrepreneurship and engineering leadership development. "He likes to share the wisdom that he's gained."
The plan is already set in motion, with Weisman halfway through earning his master of business administration at Penn State Great Valley. By the fall of 2018, he aims to return to Abington as an adjunct professor in the ENTI minor.
"I want to continue to fuel passion because the best answers are found internally — they're not given to you," Weisman said. "The best answers are found when you are led to water rather than someone pouring water on your face. The type of teaching style that I want to bring forth is an inspiring, invigorating style."
The ENTI minor, as Weisman explained it, is ideal for all undergraduates about to enter the business world. Besides gaining an entrepreneurial mindset, students can harness their "intrapreneurial" spirit, helping businesses excel without bearing any ownership risks.
"The program will make you a better employee, a better subordinate, a better leader, and most importantly, you will become less expendable," Weisman said.
The Intercollege Minor in Entrepreneurship and Innovation (ENTI) is part of Penn State Undergraduate Education, the academic administrative unit that provides leadership and coordination for University-wide programs and initiatives in support of undergraduate teaching and learning at Penn State. Learn more about Undergraduate Education at undergrad.psu.edu.