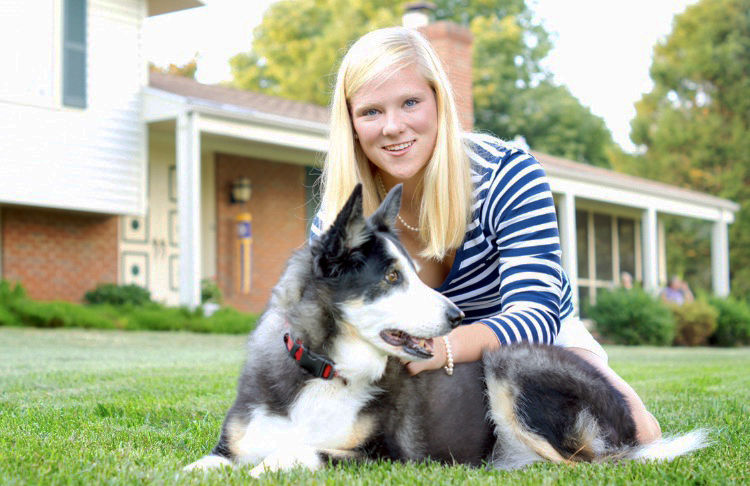 ERIE, Pa. — Margaret Dunlap planned to major in chemistry during her first year at Penn State, and she did well in her general and honors chemistry classes. But she didn't feel inspired by them, so she decided to switch to a psychology major during her sophomore year at Penn State Behrend.
"Psychology doesn't just teach you about people. It teaches you how to listen," Dunlap said. "For me wanting to be a physician, in my mind, being able to listen to patients and understand how they're feeling, and being able to lend an ear and understand and empathize, in my mind, is just as important as being able to understand the chemical and biological processes behind what's happening to my patient."
Dunlap, now a senior, is putting in plenty of work to understand the chemical and biological processes, too. Her honors thesis is examining how different kinds of oral contraceptives affect emotional memory.
"I spent an entire semester doing literature review and learning about what research was being done and how sex hormones interact with stress hormones," she said, "why it is that there might be memory differences, learning about the cycling in women who aren't on birth control and how it changes when they are on birth control."
"The long-term plan with the study is we would like to go beyond just comparing people on birth control and not on birth control. We would like to compare with oral contraceptives specifically, whether there are any differences in women on oral contraceptives with varying hormone concentrations."
More recently, Dunlap has been supervising studies that measure brain activity in volunteer subjects. They provide saliva samples that are analyzed later for sex hormone concentrations. Then, via electrodes that connect to the scalp and nose and around the eyes, they are hooked up to an event-related potentials (ERP) machine that measures their emotional responses to a variety of images. Gathering that data has been one of the more challenging parts of Dunlap's research experience.
"A lot of college students, even if they're getting class credit for it, aren't super excited about sitting in a lab for three hours with a scuba cap on their head and electrodes on their face, looking at pictures," she said. "I can design the study and make it perfect, but I can't make people come and want to participate."
In 2016, Dunlap attended an Eastern Psychological Association conference in New York and sat in on a lecture by Larry Cahill, a neurobiology professor at the University of California Irvine who is a leader in emotional memory research. She jotted down a note about his research on oral contraceptives and didn't think about it too much until a few months later, when she was brainstorming ideas for a thesis topic. She looked to find a balance between not spending time on research that had already been done and not taking on more than was feasible for an undergraduate project.
"Hopefully someone will pick up this research after I graduate and they can develop it," said Dunlap, who will present at a psychology conference in Amsterdam this May. "That's the one nice thing about this research, is with the ERP component, if something happens and we don't get enough participants to do the comparisons I would like to do, we can still look at just natural cycling women vs. women on oral contraceptives, which has been researched many times, but never with event-related potentials involved."
Dunlap, who has plans to become an orthopedic surgeon, spent last summer and part of the fall working as a physical therapy technician at Hertel and Brown Physical Therapy in Erie. A former gymnast who repeatedly dislocated her shoulder, she has a desire to help athletes overcome injuries emotionally as well as physically.
"I really relate with athletes that want to be doing what they love and they can't because of physical limitations," she said. "And helping them overcome those limitations is something that was done for me and something that I value and want to do for others. I could understand some of the psychological pain as well as some of the physical pain they were feeling."