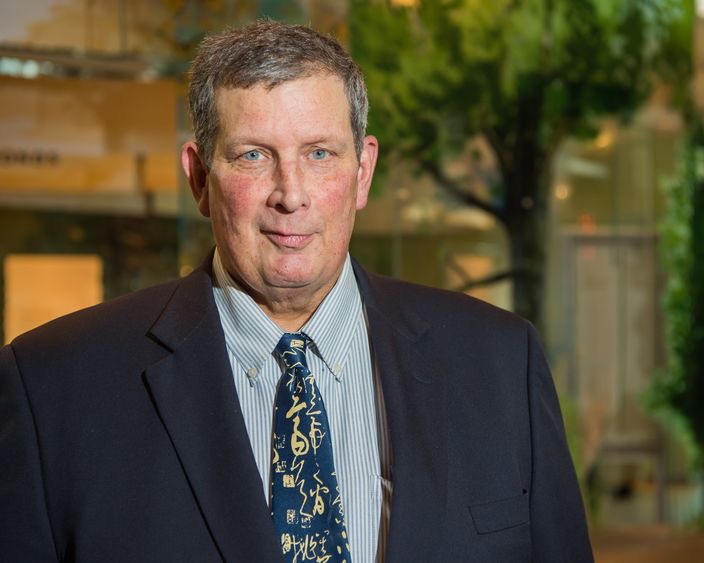 ERIE, Pa. — In his e-mails, Bob Light got right to the point. He sometimes said no — that's part of the job for a college administrator with responsibility for research, enrollment management, budget matters, community outreach and campus sustainability projects — but he did so without injecting emotion or criticism of initiatives that weren't working.
More often, his response was, simply, "Proceed."
"Bob knew when you could see a project through," said Mary-Ellen Madigan, senior director for enrollment management at Penn State Erie, The Behrend College. "He saw the potential in everyone he worked with, often before they saw it in themselves. He put you in a position to succeed, and then he gave you the space to do it."
Light, the former associate dean for research and outreach and chief operating officer at Penn State Behrend, died Feb. 13. He was 64.
Light arrived at Penn State Behrend in 1984. He was hired to teach biology, which fit his background: a bachelor's degree from the University of Delaware, a master's from Millersville University and a doctorate from Penn State. He had studied ecology, and his interest in scientific study of the environment never ebbed: He established Pennsylvania's Sea Grant program, which manages marine and coastal resources in the Lake Erie, Delaware River and Susquehanna River watersheds.
Sea Grant research was instrumental in the U.S. Environmental Protection Agency's decision to delist Presque Isle Bay as an environmental area of concern. That and other factors led to Penn State being eligible for Sea Grant College status — the highest designation given by the National Oceanic and Atmospheric Administration.
As Light moved from the classroom to administrative work, Penn State Behrend grew with him. He developed a program that funds undergraduate student research in each of the college's four schools. Students are paired with faculty members, who oversee the work; they present and explain their findings at the Sigma Xi Undergraduate Research and Creative Accomplishment Conference, the region's premier showcase for undergraduate research. More than 10 colleges now participate in the conference.
Light also led the development of Knowledge Park, a 106-acre complex at the eastern edge of the Penn State Behrend campus. The park is a cornerstone of the college's open-laboratory philosophy: Many of the companies that have located there have done so to be closer to Penn State Behrend students, faculty experts and research labs.
"Bob saw the college as a resource for the Erie region, and the model he developed for that built on our land-grant mission," former Chancellor Jack Burke said. "It also positioned our students for success. Behrend students regularly collaborate with these companies on research projects, which often lead to internships, co-ops and full-time work."
Light also was an advocate for student-athletes. At the University of Delaware, he was a member of two National Championship football teams. He also was invited to train with the U.S. pre-Olympic volleyball team. He was elected to the Pennsylvania Sports Hall of Fame and the Penn State Behrend Athletics Hall of Fame.
"It takes discipline and consistent effort to balance athletic and academic interests at the collegiate level," said Brian Streeter, senior director of athletics at Penn State Behrend. "Bob knew that, because he had done it himself. He supported our student-athletes at every opportunity, because he knew both the value and the challenges of keeping that dream going."
Light was just as active off-campus. He held leadership roles with Environment Erie, the National Earth Force Program, the Regional Science Consortium, the Erie Chamber of Commerce and the Industrial Resource Center. He was appointed by the governor to serve on the Great Lakes Commission, and he was the first recipient of the John C. Oliver Environmental Leadership Award.
"In every venue, and at every turn, the leadership Bob demonstrated and the support he showed for our students, his colleagues and our community partners never wavered," Chancellor Ralph Ford said. "There is virtually no aspect of the college or our neighboring community where his impact was not felt. Bob was a mentor, a teacher, a coach and a friend. Penn State Behrend is a better place because of him."
Contact
Robb Frederick
Assistant director, news and information, Penn State Behrend