400 area middle and high school students compete at regional event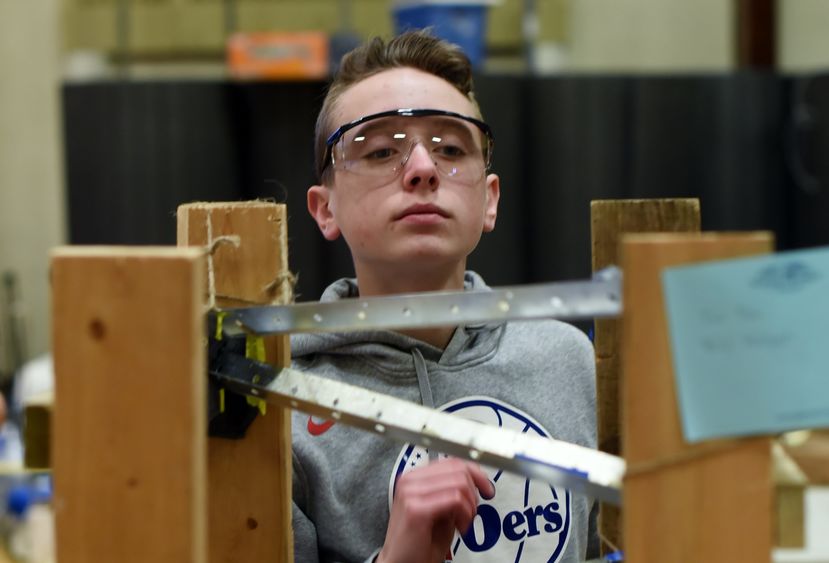 ERIE, Pa. — Here's Kalan McDonald, with his big Frankenstein box of electronics. It's filled with magnets and wires and pulleys and a walk-the-plank stick from a toy pirate ship — OK, it's a tongue depressor — which, if he hits it just right, should flip a quarter into the cup of water at the bottom of the box.
The displacement of the water should set off another reaction, which will trigger another, and then another, all the way over to the old cassette player, which holds a recording of McDonald and his teammates shouting, "THE END!"
"You all but kill yourself putting a thing like this together," said McDonald, a senior at Northwest Pennsylvania Collegiate Academy, one of 35 schools that participated in the regional Science Olympiad at Penn State Behrend.
"It was like four all-nighters," said his teammate, Andrew Polaski.
"We had a study day yesterday," added Jonah Britton, another teammate, "and we literally did nothing but this."
"But then you get it all together, and it works, and it's totally worth it," McDonald said.
So here goes: McDonald lifts a magnet, which releases a vial of water, which mixes with ammonium nitrate, which sparks two lantern batteries, which heat a beaker of water to 18 degrees Celsius. The heated water triggers a photo cell, which powers a motor, which drives a series of pulleys, which lead to levers and mousetraps and an electromagnet and the pirate's plank, and dang if that quarter doesn't flip right in.
It's tails, too. That means bonus points.
High-fives all around. Then a sensor swings a lever, which snaps a mousetrap, which deflates a balloon, which empties a beaker of heated water into a dish of salt, which closes the circuit, which leads to the cassette player, and then, triumphantly…
Nothing. No turning of the cassette heads. No shouting "THE END!"
What happens next is important. The boys sigh. They close their eyes and slope their shoulders, deflated. Then they reach into their Rube Goldberg machine, checking wires and levers and sensors, looking for the link that failed. It's at the very end: The battery in the cassette player was not set flush against the connector plate.
"This is the way real research works," said Chuck Yeung, professor of physics at Penn State Behrend and coordinator of the regional Science Olympiad. "It usually takes many failed attempts before an experiment works the way you want it to. The important thing is to learn from each attempt."
The regional Olympiad tests students' knowledge in 46 different events. Teams earn points for demonstrating their fluency in anatomy, astronomy, chemistry, ecology, herpetology and materials science, among other topics.
Sometimes they falter. Balsa-wood towers collapse. Mousetrap-powered cars veer off course.
That's part of the process. Real scientists fail, too. It's how they learn what works.
The goal is to learn from it, and to move forward with the process. The top nine teams at the regional Science Olympiad advance to the state finals at Juniata College on April 28. Northwest Pennsylvania Collegiate Academy made the cut, so McDonald, Britton and their teammates will have another chance to press "Play" on that cassette tape.
It motivates them, Britton says. "You sit in class sometimes, and you wonder, 'How am I ever going to use this? What good is it?'" he said. "Then you take on a project like this, and you see that it has meaning, and there's a reason they're teaching this stuff, and maybe you start to pay a little more attention."
Contact
Robb Frederick
Assistant director, news and information, Penn State Behrend