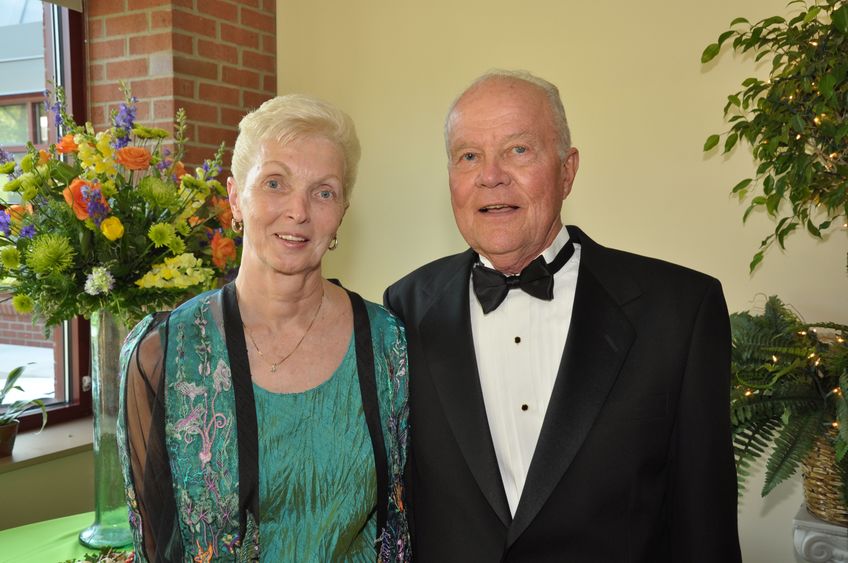 ERIE, Pa. — Larry V. Smith, a steadfast friend and supporter of Penn State Behrend, died March 9 at Saint Vincent Hospital in Erie following a brief illness. He was 79.
Smith was the owner and CEO of Automation Devices, a manufacturing company started by his father in 1950. Although he was not a Penn State graduate, Larry and his wife, Kathie, have been generous in their support of Penn State Behrend. Through a major gift to the college, they funded construction of the Larry and Kathryn Smith Chapel in conjunction with the Floyd and Juanita Smith Carillon and bell tower, funded by an earlier gift from Larry's parents. Over the years, the couple donated parcels of land adjacent to the Behrend campus, including land on which the Federal House, thought to be the oldest brick structure in Erie County, sits. They also established a family scholarship fund.
"Larry and Kathie Smith's support of Penn State Behrend is seen, heard and felt every day on our campus," Chancellor Ralph Ford said. "The carillon bells, which ring every quarter hour, are a regular reminder of the Smith family's generosity. As both a friend and supporter of Penn State Behrend, Larry will be missed."
At the time of the gift to build the chapel, Smith said his own difficult experiences led him to the project. His father, Floyd Smith, had died in a plane crash. A few years later, a health condition required Smith to undergo a kidney transplant. The Smiths said they felt that God had carried them through those troubled times. In gratitude, they wanted to provide a place of worship for students at Penn State Behrend.
The Smiths' vision for the chapel space included a 1,208-pipe organ, a centerpiece meant to honor their children, Kevin and Colleen. The carillon bells sit atop an 80-foot brick tower, which is adjacent to the chapel. Made of bell metal, a bronze mixed with copper and tin, they weigh between 15 and 1,344 pounds.
The chapel and carillon were dedicated in 2001. Kevin Smith married his bride, Julie, during the Smith Chapel's first wedding ceremony that same year. Hundreds of couples have since married there.
Larry and Kathryn Smith have continued to provide support for upkeep of the chapel instruments and facilities, as well as programming. World-renowned carillonneurs perform free concerts each summer in the Smith Concert Series.
"The chapel means many things to many different people," said Kelly Shrout, associate director of student affairs at the college, and former director of the Smith Chapel. "It's a refuge, a place to find silence or listen to amazing music. It's a place to worship, either alone or as part of a larger community, or to give of oneself through service and other leadership opportunities."
In 2011, the Smiths and their children made the decision to create yet another legacy gift to Penn State Behrend, creating an endowed scholarship to provide opportunities to Erie County students in need of financial support. The Larry V. and Kathryn A. Smith Family Trustee Scholarship has since awarded 25 scholarships.
"We have always believed in giving back and instilled that spirit in our children as well," Smith said at the time the scholarship was announced. "Our family has been blessed over the years, and we hope this scholarship will encourage promising students from families in need of financial support."
Smith is survived by his wife, Kathryn Mehler Smith; their daughter, Colleen, and her companion, Brent, of McKean; their son, Kevin, and his wife, Julie, of Lake City; and four grandchildren.
A funeral service was held in Smith Chapel on March 15. Memorial gifts may be made to the Larry V. and Kathryn A. Smith Family Trustee Scholarship Fund or the Larry and Kathryn Smith Chapel at Penn State Behrend, 4701 College Drive, Erie, PA 16563.
Contact
Robb Frederick
Assistant director, news and information, Penn State Behrend