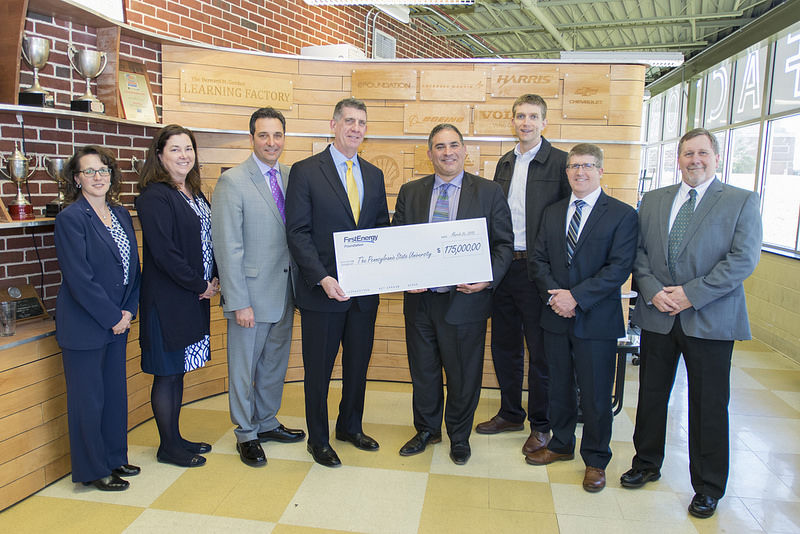 UNIVERSITY PARK, Pa. – The FirstEnergy Foundation, solely funded by FirstEnergy Corp., has donated $175,000 to support the Penn State College of Engineering's Learning Factory Senior Capstone Design Projects at the University Park, Behrend and Berks campuses.
The Learning Factory is a hands-on facility for engineering students to use for courses, research projects, student organizations, and for Senior Capstone Design Projects, where teams of engineering students tackle real-world problems sponsored by clients in industry.
"The FirstEnergy Foundation is committed to supporting efforts that strengthen the economy in communities we serve, and the Learning Factory program does just that," said JP Tambourine, manager of economic development at FirstEnergy. "Students get a chance to work on real industry problems or challenges to prepare them for their future, and industries get a chance to tap into the energy, enthusiasm and creativity of the students. So, it's a win-win situation."
Of the total amount, $100,000 will fund the Penn State Pennsylvania Technical Assistance Program (PennTAP)'s matching grant program for Learning Factory Senior Capstone Design Project sponsorships at the University Park campus. This matching grant program allows small- and medium-sized companies within the Commonwealth to participate in the Senior Capstone Design Project program, who otherwise wouldn't be able to afford the sponsorship fee.
"This gift allows smaller companies to participate in an engineering design program that could have significant impact on their bottom line," said Tim Kerchinski, innovation team lead for PennTAP. "These companies gain valuable engineering design ideas that they would not have been able to afford without this gift."
Penn State College of Engineering enrollments have been growing for the past decade, which requires more Senior Capstone Design Project sponsors to satisfy the student enrollment growth. The Learning Factory at the University Park campus currently has a need for more than 80 sponsor projects in the fall semester and more than 130 sponsor projects in the spring semester.
"The FirstEnergy Foundation's gift will help provide good, solid engineering design projects to the Learning Factory at a time when our enrollments and project needs are high," said Kerchinski. "We hope that sharing the successes of these projects will encourage other organizations to sponsor additional engineering assistance programs similar to the FirstEnergy program to help to continue to grow and maintain the quality of the Learning Factory program."
The additional gift amount of $75,000 will be dispersed to the Penn State Behrend campus and the Berks campus to provide support for their Learning Factory programs — $50,000 and $25,000, respectively.
The FirstEnergy Foundation is a continued supporter of initiatives within the Penn State College of Engineering, most recently through a $75,000 contribution to fund the newly opened Gursahaney Family E-Knowledge Commons lobby. The space, located in the Reber Building on the University Park campus, allows mechanical and nuclear engineering students to collaborate in various study spaces, while having easy access to technology and other resources.
"The FirstEnergy Foundation recognizes the value of a relationship with an institution like Penn State," Tambourine said. "A significant number of our positions require technical expertise, and universities like Penn State continue working to build a skilled workforce for the future."
Since its inception, the Learning Factory has completed more than 1,800 projects for more than 500 different sponsors, and nearly 9,000 engineering students at Penn State University Park participated in such a project. For more information, including how to sponsor a project, visit lf.psu.edu.
Gifts from Penn State's alumni and friends have been essential to the success of the University's historic land-grant mission to serve the public good. To fulfill that mission for a new era of rapid change and global connections, the University has begun "A Greater Penn State for 21st Century Excellence," a fast-paced campaign focused on the three key imperatives of a public university: Private support will keep the doors to higher education open to hardworking students regardless of financial well-being; create transformative experiences that go beyond the classroom; and impact the world by fueling discovery, innovation and entrepreneurship. To learn more, visit greaterpennstate.psu.edu.