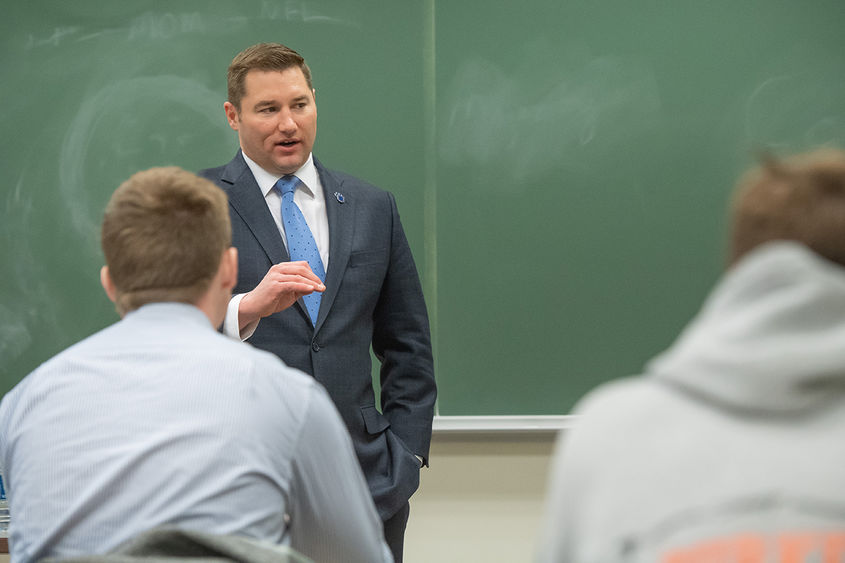 ERIE, Pa. — For political science major Sam Zdunski, a two-day April campus visit by Penn State alumnus and Pennsylvania state Sen. Guy Reschenthaler, class of 2004, was a rare opportunity to interact with a politician in unscripted moments.
"You tend to only hear about politics through pundits and professors. You rarely get to hear what politics is like from someone who is actually a part of it," said Zdunski, a sophomore from Erie who sat next to Reschenthaler at a dinner celebrating the senator's 2018 Alumni Achievement Award. Zdunski also ate lunch with Reschenthaler the next day, and was in two of his five meetings with government and political theory classes. "We got to talk about current events one-on-one and I got to ask him questions that cleared up so many things I was confused about."
The Alumni Achievement Award is given by the Penn State Alumni Association to recognize alumni 35 years of age and younger for their extraordinary professional accomplishments. Reschenthaler, one of ten Penn Staters honored this year, earned his bachelor's degree in political science at Penn State Behrend.
Reschenthaler represents the 37th District in the Pennsylvania Senate, serving portions of Allegheny and Washington townships. He was elected to the Senate in 2015 in a special election and was re-elected in 2016 to serve a full four-year term. He currently is running for election to Congress in Pennsylvania's 14th Congressional District.
In the state Senate, Reschenthaler's priorities include education, government and tax issues, and pension reform. He serves on the rules and executive nominations; banking and insurance; community, economic and recreational development; intergovernmental operations; judiciary; and law and justice committees.
Prior to joining the State Senate, Reschenthaler was magisterial district judge for Pleasant Hills, Jefferson Hills and South Park, winning the nomination of both parties.
After completing law school at Duquesne University in 2007, Reschenthaler joined the U.S. Navy Judge Advocate General Corps and volunteered for duty in Iraq. In Baghdad, he prosecuted nearly 100 terrorists, including top figures in Al-Qaeda. He also successfully defended a Navy SEAL falsely accused of misconduct. Stateside, he served as a Navy lawyer in Virginia, Oklahoma and Texas, where he was the first uniformed military officer to share in the prestigious Michael Taylor Shelby Award given annually by the Southern District of Texas Chapter of the Federal Bar Association for outstanding ethics and professionalism.
Reschenthaler is a member of the Penn State Behrend Council of Fellows, the School of Humanities and Social Sciences Advisory Board, and the Political Science Advisory Board.