The past four Penn State Behrend leaders attended the Glenhill Appreciation Dinner, which honored the chairman of the board of Erie Insurance Group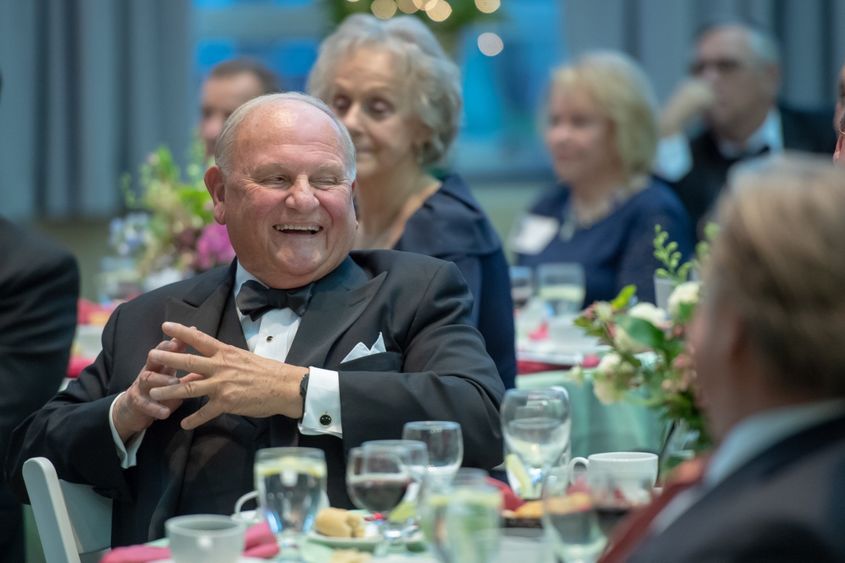 ERIE, Pa. — The Behrend Medallion, Penn State Behrend's foremost recognition of an individual who has brought honor to his or her profession and community, has been awarded for only the 20th time in the college's 70-year history.
The medallion was presented to Thomas B. Hagen, chairman of the board of Erie Insurance Group companies and owner and chairman of Erie-based Custom Group Industries, by Chancellor Ralph Ford at the Glenhill Appreciation Dinner held on May 23.
Hagen began working at Erie Insurance in the early 1950s, while he was a student at Penn State Behrend. He retired from the company 40 years later as chairman and CEO.
From 1995 to 1997, Hagen served as Pennsylvania's 28th and last secretary of commerce. When the Commonwealth offices were restructured, he became the first secretary of the Department of Community and Economic Development in the administration of former Gov. Tom Ridge.
Long identified with Erie's community development and historic building restoration efforts, Hagen is an advisory board member and former officer and director of Preservation Pennsylvania. In 1993, he received the Pennsylvania Chapter of the American Institute of Architects' Honor Award for contributions to the profession by a nonarchitect. The Pennsylvania Historical and Museum Commission has honored him with its Preservationist of the Year Award and, in 1997, named him Emissary Plenipotentiary.
"It is fascinating to me that Tom is actively looking both forward to Erie's future and back to its past," Ford said during the ceremony. "At the same time that he's leading economic development initiatives, he is also spearheading efforts to preserve Erie's historical assets."
Hagen is a member and past chair of the Penn State Behrend Council of Fellows, a member of the advisory boards of the college's Black School of Business and Institute on the American Dream, and the current honorary chair of the Penn State Behrend Campaign Committee. In 1998, he received the designation of Alumni Fellow, the highest individual honor bestowed by the Penn State Alumni Association.
Hagen and his late wife, Susan, endowed what is now called the Susan Hirt Hagen Center for Organizational Research and Evaluation, or CORE. CORE conducts high-quality research and evaluation of program effectiveness and best practices for healthy youth development.
John M. Lilley, former provost and dean of the college, told the audience that when he interviewed for Behend's leadership position in 1980, Hagen promised to support him in his efforts to grow the institution.
"And he surely did," Lilley said. "Tom understood what Penn State Behrend could become, and as a discerning businessman, he knew the region needed a high-quality public research university, a unique mission for this area."
"Tom cares deeply about his community, as I've seen firsthand in our joint efforts to revitalize downtown Erie through the Erie Downtown Development Corporation," said Timothy NeCastro, president and chief executive officer of Erie Insurance and board president for the Erie Downtown Development Corporation, a private nonprofit Hagen helped to found. "And he cares deeply about education and learning, as we've all seen in his commitment to Penn State Behrend."
The dinner, which was attended by the past four Behrend leaders — Lilley, Jack Burke, Don Birx and Ford — also honored the 19 individuals and couples newly inducted into The Glenhill Society, a recognition of personal philanthropy of $50,000 or greater to Penn State Behrend.
Contact
Robb Frederick
Assistant director, news and information, Penn State Behrend