Joseph Beilein, assistant professor of history, traces ancestor's travels for actress Megan Mullally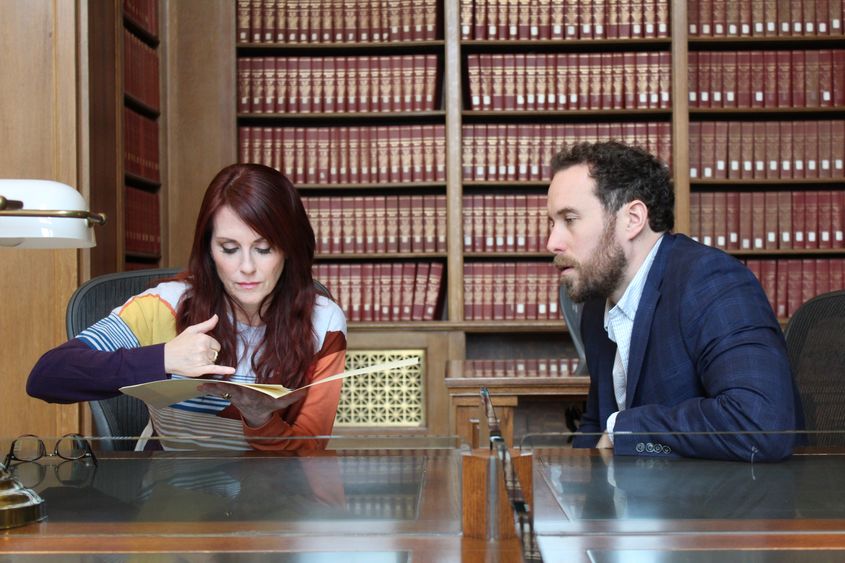 ERIE, Pa. — Notes from the Mayor's Court in Macon, Georgia, show that the deserter James E. Venable suffered "a most awful mauling" during a drunken fight with his wife, the feisty Elizabeth Mullally Venable, in 1869.
She beat him with a stick. She got the better of him again in court: James Venable was sentenced to 20 days of manual labor, which he served in the town square, a ball and chain attached to his leg.
Venable had run from the law once before. While working in a Georgia arsenal during the Civil War, he was charged with being an abolitionist. He was jailed in Richmond, Virginia, the capital of the Confederacy.
"That was a serious charge," said Joseph Beilein, assistant professor of history at Penn State Erie, The Behrend College. "If he had been found guilty, he would have certainly been executed."
Beilein studied Venable's case at the request of TLC, which featured it in the May 28 episode of the celebrity genealogy program "Who Do You Think You Are?" He shared the historical documents with the actress Megan Mullally, from the cast of "Will & Grace." Mullally is a direct descendant of Elizabeth Mullally Venable.
"We talked for nearly two hours," said Beilein, who met with Mullally at the National Archives in Washington, D.C. "There is certainly a part of who she is that comes through in her characters. She's very quick, very smart and very funny. There is a serious side to her, however. Her family history is not pretty."
It begins with Elizabeth Venable, who traveled more than 500 miles — much of it on foot — to argue for her husband's release, according to his amnesty papers, which Beilein reviewed.
"She very much put herself out there for him," Beilein said. "In a way, she had to. She found herself in a dangerous position: Her husband had been called an abolitionist and a traitor, and that stigma would also have been attached to her."
When his wife arrived in Richmond, James Venable was granted a temporary release. As soon as he was free, the couple paid a smuggler to take them north.
By 1865, when the Civil War ended, the family was in Philadelphia. James Venable, hoping to return home to Georgia, petitioned for amnesty, and his wife again supported him in court. So did Philadelphia's mayor, Alexander Henry. He called Venable "a true loyal citizen."
James Venable was Elizabeth's second husband. The first, Ira M. Mullally, died of consumption in 1860, leaving her with two young children — one of whom would become Megan Mullally's great-great-grandfather.
The marriage had been difficult. Ira Mullally was jailed for six months after whipping his wife, who was pregnant at the time.
Though she is never shown, not even in photos, Elizabeth Venable anchors Megan Mullally's "Who Do You Think You Are?" episode. She survived one abusive husband only to marry another. When the second man beat her, she responded with a stick; newspaper coverage of their fight refers to her as "the pugnacious spouse." Years later, Elizabeth sued her son, and won, during a property dispute. She died in a mental asylum in 1903.
That level of detail is important to Beilein, who also was an on-camera consultant when "Who Do You Think You Are?" traced the family story of the actress Jessica Biel in 2017.
"In the classroom, when you're talking facts and dates, you don't always feel the full impact of a story," he said. "When you have an opportunity to work with primary documents, and to collaborate with a person who has a deeply vested interest in what those documents show, it's a different experience. The material comes to life.
"This is one of the best ways to learn history," he said. "When you read the words of people who lived through actual events, that resonates. It sticks with you."
Contact
Robb Frederick
Assistant director, news and information, Penn State Behrend