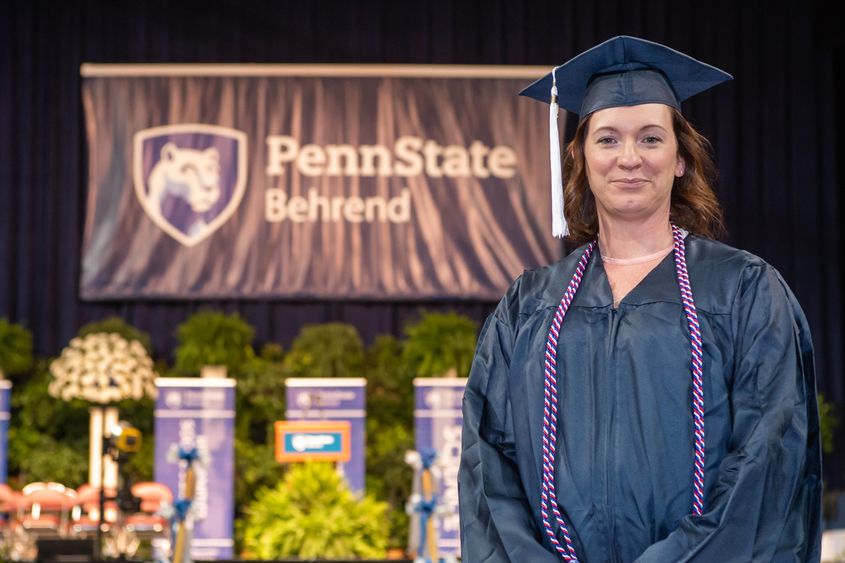 ERIE, Pa. — Natalie Splinter traveled more than 1,000 miles to participate in Penn State Behrend's spring commencement ceremony. Her husband, his parents and her two children also made the trip. It was the first time they had been to Pennsylvania.
Splinter, 33, lives in Panama City, Florida. She manages a branch office for an investment firm. Before that, she was a U.S. Navy hospital corpsman. It wasn't always easy.
"When I was younger, I struggled with my finances," she said. "I watched my parents struggle, too. They had to juggle so much."
She learned to be disciplined with her money. She became good enough at it to entertain the idea of becoming a financial adviser.
"That sort of became a passion for me," she said. "If I can help people avoid making the same mistakes I made, that would be the greatest feeling in the world."
Splinter enrolled in Penn State World Campus, which offers additional resources for active-duty, reserve and veteran service members. The online undergraduate finance program is administered by faculty members at Penn State Behrend; the pragmatic focus of the program prepares students for the Chartered Financial Analyst and Certified Financial Planning professional designations.
"Natalie was a very engaged student," said Eric Robbins, a lecturer in finance at Penn State Behrend and a World Campus instructor. "It was a pleasure to have her in a virtual classroom, and it was special being able to congratulate her in person as she crossed the stage to receive her diploma."
Splinter did most of her schoolwork at night, after a full day of work and evenings with two toddlers in the house. Her husband, a U.S. Navy diver, helped as much as he could.
"We try to work as a team to take care of the kids," she said, "but a lot of nights, you have to wait until they're in bed, and then you're up until 2 or 3 in the morning. You just push through it. You do the best that you can, and you make it work."
Splinter completed the online program in May. She immediately made arrangements to travel to Pennsylvania, where, in cap and gown, she crossed the stage at Erie Insurance Arena and shook hands with Penn State Behrend Chancellor Ralph Ford.
"I worked hard for this," she said before the ceremony. "I wouldn't miss it for the world."
Contact
Robb Frederick
Assistant director, news and information, Penn State Behrend