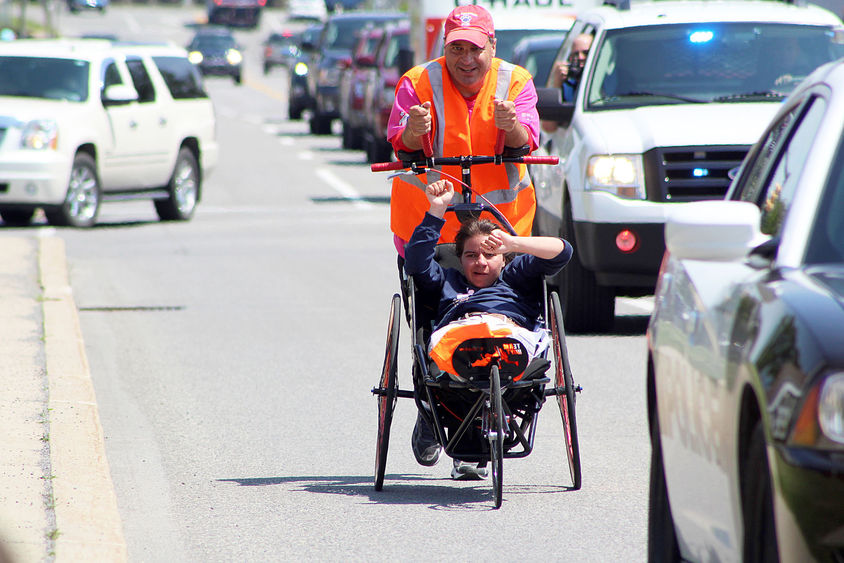 ERIE, Pa. — When Dan Perritano and his daughter Emma "go for a walk," they don't just mean a jaunt around the block.
In May, their route took them from Erie to Pittsburgh — a 130-mile journey over the course of two weeks.
The two make for a striking pair on the road: Emma, 19, has cerebral palsy. Dan, head coach of the men's soccer team at Penn State Erie, The Behrend College, pushes her along in a Hoyt running chair.
The pair undertook the journey to Pittsburgh because they enjoy the adventure and time together. But Dan and Emma also use their story to raise funds for nonprofit organizations that are important to them.
Their walk to Pittsburgh, for instance, raised $7,249 for the Greater Pennsylvania and West Virginia branch of Make-A-Wish, including a $1,000 donation from the Pittsburgh Pirates. The team invited Dan and Emma onto the field at PNC Park after learning of their journey.
This wasn't their first time on the road: In 2015, Dan and Emma walked from Erie to the New York state line for the Arc of Erie County, which works to improve support and programs for individuals with intellectual and developmental disabilities. In 2017, they walked from Erie to DuBois for Grady's Decision, an Erie-based nonprofit that offers financial, emotional and spiritual support to families whose children are in need of specialized medical attention.
Dan chose Make-A-Wish this year because Emma herself received a wish from the organization in 2009. She and her family went to Disney World and Sea World in Florida.
The money they raised walking to Pittsburgh paid for a critically ill child and his family to travel to Florida theme parks — just as Emma once did, said Jan Stork, vice president of development for the Greater Pennsylvania and West Virginia chapter of Make-A-Wish. There is enough left over to partially fund a second wish, she said.
The reason Dan and Emma undertake their epic treks?
It's simple, Dan said: "Emma loves it. She just likes moving. She's a busybody. It's something fun that we both enjoy — that's really our big motivation for doing it."
Traveling with Emma takes plenty of logistical planning. On the Pittsburgh journey, Dan's wife and Emma's mom, Jane Brady, the college registrar at Penn State Behrend, picked them up each night and brought them back home or to a hotel, depending on where they were in their journey. Other times, Dan has asked strangers to retrieve his minivan from where he left it that morning and bring it to him and Emma.
"I have trust in people, and they haven't proven me wrong yet, especially when I'm with Emma," he said.
When they are ready to walk again, Dan and Emma return to the spot where they last stopped and resume their trek. They typically walk three to five hours a day, Dan said. But "typical" is difficult to measure.
There have been flat tires and rainstorms and sweltering days. There also has been support — literally — every step of the way.
Sometimes family and friends, including Penn State Behrend soccer players and other coaches, will join them for a leg of the journey. Other times, complete strangers will stop them, offering water, conversation and kind words to Emma — who rewards them with a grin and a wave.
"Half a dozen people will stop us every day, wanting to know what we're doing," Dan said.
Many end up donating to the cause.
"It was amazing to me how complete strangers would make donations when they heard what Dan and Emma were doing," Stork said. "I walked with them for a few miles, and it's so much fun watching Emma because she just has a blast. She is a bundle of energy and joy. It's inspiring."
Most of the time on the road, however, it's just Dan and Emma. They listen to music. They look at the world around them. They talk.
"For someone who is considered 'non-verbal,' she expresses herself pretty well," Dan said. "She's just a fun person to be around. We listen to music and talk, and Emma points me where to go."
With Emma now 19, Dan no longer thinks about the fact that his family's life looks different from that of many others.
"I want for her what any parent wants for their child," he said. "Jane and I want her to be happy, to enjoy life and to be as productive as she can be."
Mile by mile, Emma is making her parents' dreams come true.