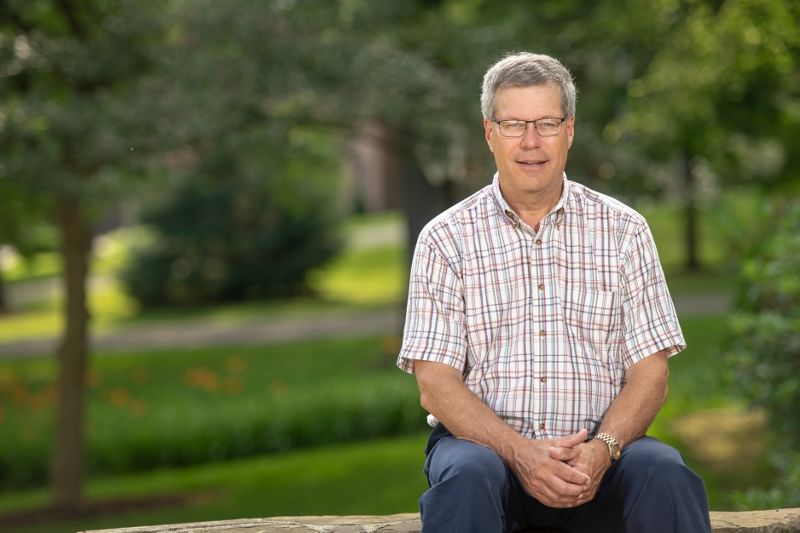 ERIE, Pa. — William "Bill" Lasher, a founding faculty member of Penn State Behrend's engineering program, retired in 2017 with the distinction of professor of mechanical engineering emeritus.
His contributions to the college's School of Engineering didn't end with his retirement, however. His support will continue through an estate gift commitment he has made to the school.
"My work at Penn State Behrend was a job and a career, but it was also a passion for helping students and the college grow and succeed," Lasher said. "I want to continue that legacy, to do what I can to contribute to the success of Behrend and its students in the years ahead."
Lasher was hired in 1984 by then-Provost and Dean John Lilley as an engineering program was getting off the ground at the college.
"John Lilley really helped me see the potential, got me excited about building a strong engineering school right in Erie," Lasher said. "I was impressed with the future he saw for engineering at Behrend."
Lasher helped lead the transition from a multi-disciplinary engineering program to separate mechanical and electrical engineering programs. He also played a key role in initial accreditation of the mechanical engineering program in 1994. He was elected a fellow of the American Society of Mechanical Engineers in 2005, an honor that recognizes significant engineering achievements and contributions to the engineering profession.
Through the efforts of Lasher and many others, Penn State Behrend's School of Engineering, now 1,600 students strong, is today one of the top 30 undergraduate programs in the country, as ranked by U.S. News & World Report.
"It's now one of the leading engineering schools in the country, just as John Lilley envisioned," Lasher said.
Lasher's estate gift, the William Lasher Endowment for the School of Engineering at Penn State Erie, The Behrend College, reflects his wishes that upon his death a set amount of funds be directed to support new programs and initiatives of the school.
For those like Lasher who have the vision to make planned gifts to Penn State, the University honors the commitment with membership in the Atherton Society, named for George W. Atherton, Penn State's seventh president, and his wife, Frances.
Planned gifts, which offer flexibility in the lifetime use of assets and income while still allowing the benefactor to leave a lasting legacy, can be made through a will or living trust. Planned gifts can also be made through a charitable gift annuity, a remainder trust, or a lead trust. Other options include an endowment fund, a retirement plan asset, a life insurance policy or even a remainder interest in a home.
The establishment of a planned gift is one of the many ways Penn State alumni, friends and faculty and staff can support the University. Supporters may make direct gifts; make multi-year giving commitments; establish endowed scholarships through singular and group efforts; and donate real estate and stocks and bonds.
For more information about giving options, Penn State Behrend supporters can contact Kevin Moore, director of Development and Alumni Relations, at 814-898-6159 or [email protected]
This gift will advance "A Greater Penn State for 21st Century Excellence," a focused campaign that seeks to elevate Penn State's position as a leading public university in a world defined by rapid change and global connections. With the support of alumni and friends, "A Greater Penn State" seeks to fulfill the three key imperatives of a 21st-century public university: keeping the doors to higher education open to hardworking students regardless of financial well-being; creating transformative experiences that go beyond the classroom; and impacting the world by fueling discovery, innovation and entrepreneurship. To learn more about "A Greater Penn State for 21st Century Excellence," visit greaterpennstate.psu.edu.
Contact
Robb Frederick
Assistant director, news and information, Penn State Behrend