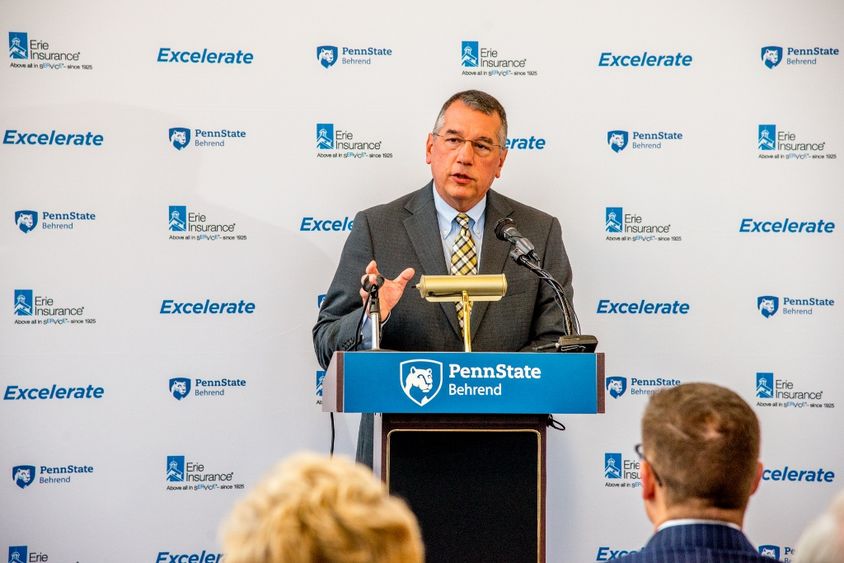 ERIE, Pa. —  A new partnership with Erie Insurance will create scholarships for first-year students at Penn State Erie, The Behrend College, and fund internships and research stipends for upper-level students who work with local businesses and nonprofits. In its first year, the program, called Excelerate, is expected to provide scholarships and stipends for as many as 50 students.
Excelerate will expand and be managed through Penn State Behrend's Pathways to Student Success: Summer Start program (PaSSS).
"The idea behind this partnering effort is really quite simple," said Ralph Ford, chancellor of Penn State Behrend. "It's intended to broaden the pathway to a college education for more area young people and to help build the talent that powers economic revitalization of the Erie region.
"Our PaSSS program has a proven record of success that we hope to build on," Ford said. "Eighty-eight percent of PaSSS students return for a second year, which outpaces national averages."
The broader community also benefits when those students remain in college, said Tim NeCastro, president and CEO of Erie Insurance. By doubling the scholarship opportunities for students in the PaSSS program, Excelerate is a long-term investment in the local workforce.
"Excelerate supports high-performing high school students who might otherwise not go to college and creates a pathway to higher education and real-world work experience that is vital to the well-being of our workforce, our city and our region," NeCastro said. "Building strong communities is good for local businesses like ours because it helps to attract and retain a talented workforce."
PaSSS, which began at Behrend in 2017, helps entering students transition to Penn State in the summer before their first year. PaSSS students establish connections, build an academic advising relationship, learn skills through on- or off-campus work experiences and earn credits that will help them to graduate on time. Through Excelerate, students in the program are eligible for a minimum of $2,000 in scholarship funding in the summer preceding their first year of study and can opt to participate in the program again the next summer. Students who complete both summer sessions are 18 credits ahead of schedule toward degree completion by the time they begin their sophomore fall semester.
Excelerate will be funded through two Penn State endowments established by Erie Insurance, with matching funds from the University. An initial commitment of $1.5 million provided by Erie Insurance combined with $2.5 million in matching funds from Penn State brings the total investment to $4 million. Erie Insurance's gift will advance the University's current fundraising campaign, "A Greater Penn State for 21st Century Excellence."
Currently, Penn State Behrend's PaSSS program supports 40-50 incoming students; the Excelerate funding is expected to nearly double the number of students benefiting from the program. In addition to financial support, the PaSSS program offers mentoring, networking opportunities and academic support for early coursework, including personalized math instruction.
The second component of Excelerate will provide real-world work experience and opportunities for career growth. Three types of opportunities will be available:
Internships with local small businesses and community groups, including startups and entrepreneurial ventures that could not otherwise afford internship stipends.
Faculty-advised teams of students assigned to local companies and community groups to address business problems.
Independent summer research projects with Penn State Behrend faculty members who conduct research in conjunction with area businesses.
The students who participate in these collaborative projects will be eligible for individual stipends of up to $4,000 each year.
"When our students engage with local businesses, everyone wins," Ford said. "They make professional connections while applying the concepts they learn in class, and our partners gain access to new talent and new ideas that can move a product or initiative forward and contribute to regional economic development."
An important aspect of Excelerate will be the evaluation of student and economic development results as key indicators of program success. Evaluation will be conducted by Penn State Behrend's Susan Hirt Hagen Center for Community, Outreach, Research and Evaluation (CORE). An eight-member advisory board of employees from Erie Insurance and Penn State Behrend will also advise the student engagement fund, evaluate program success and ensure funds are spent in accordance with program guidelines, and make recommendations for program enhancement.
About "A Greater Penn State for 21st Century Excellence"
This gift will advance "A Greater Penn State for 21st Century Excellence," a focused campaign that seeks to elevate Penn State's position as a leading public university in a world defined by rapid change and global connections. With the support of alumni and friends, "A Greater Penn State" seeks to fulfill the three key imperatives of a 21st-century public university: keeping the doors to higher education open to hardworking students regardless of financial well-being; creating transformative experiences that go beyond the classroom; and impacting the world by fueling discovery, innovation and entrepreneurship. To learn more, visit greaterpennstate.psu.edu.
Contact
Robb Frederick
Assistant director, news and information, Penn State Behrend