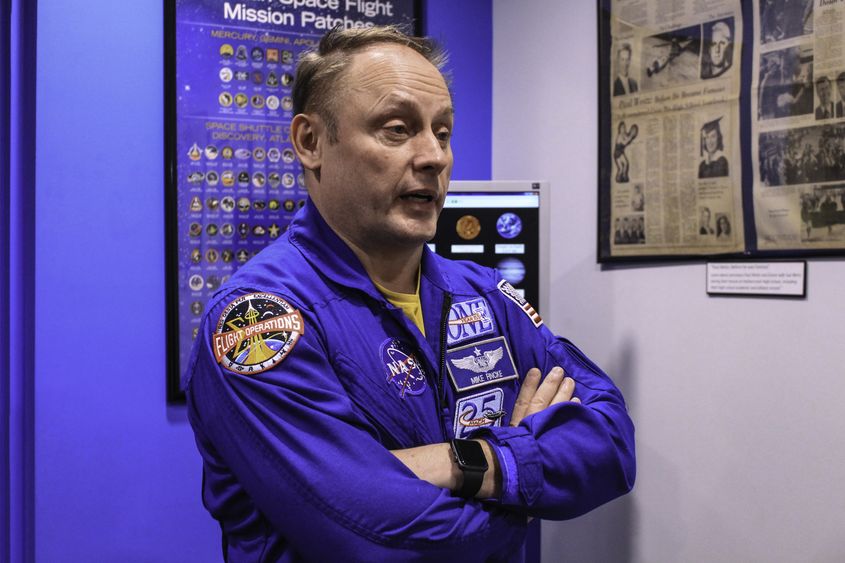 "When I was growing up, there were only a few paths that would take you into space. First, it was 'The Right Stuff,' which was the male test pilot story. Then, in 1978, we hired the first class of shuttle astronauts. That opened it to doctors and scientists. Today, students can follow any number of paths. You can come to NASA as a pilot, or a physician, or a mathematician, or an engineer, or you can work up the ladder on the commercial side, at SpaceX, or Boeing, or some other company. You do need to be a jack-of-all-trades, however. You have to know how to fly the command module and also fix the toilet, and you have to be able to do it in several different languages."
--NASA astronaut Michael Fincke, who visited Penn State Behrend for an Open House Night in Astronomy on Nov. 1.
Fincke, a Pittsburgh native, lived in space for 381 days, 15 hours and 11 minutes – a record that held until 2015. He was a science officer and flight engineer aboard the International Space Station in 2004, and he returned as commander in 2009. During those missions, and another in 2011, he completed seven spacewalks.
Fincke currently serves as branch chief for NASA's Commercial Crew program, which promotes the development of privately operated crew vehicles for low-orbit missions.
"NASA is kind of the icebreaker," he said. "We go out and do the initial exploration, and once we get to a certain level of operational knowledge and technical ability, we open it up to industry.
"The government did that with airplanes, too. We chartered the first airmail, and then we carried people, beginning with the military. Then it moved to the private sector. We're going to do the same thing with space."
Contact
Robb Frederick
Assistant director, news and information, Penn State Behrend