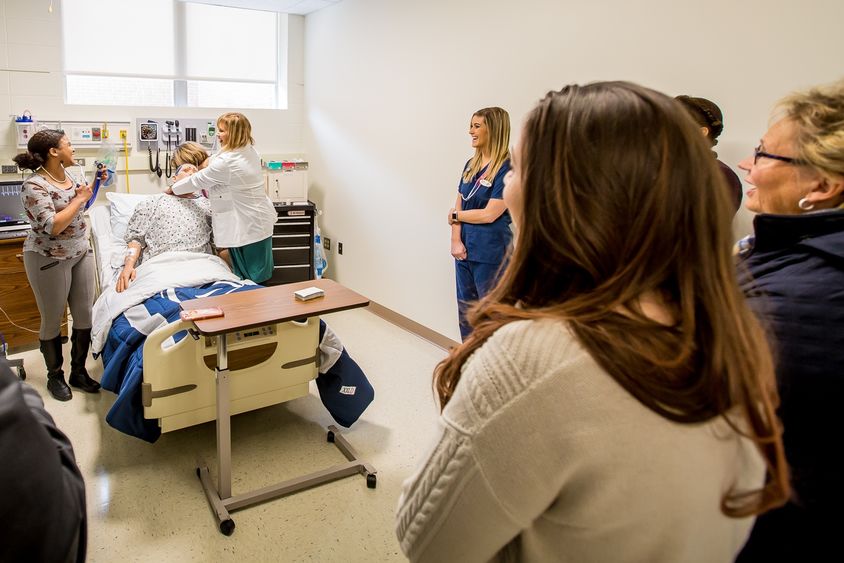 ERIE, Pa. — A $950,000 expansion of the advanced nursing labs at Penn State Erie, The Behrend College, gives students access to high-fidelity simulation mannequins, which can mimic almost any health emergency, from cardiac arrest and epileptic seizures to a neonatal complication that endangers both the mother and her mannequin baby.
The real value of those mannequins is in the number of students who now will have access to them: By expanding its simulation labs and upgrading its nursing skills lab — where classes can now watch video feeds from each of the three new simulation bays — Penn State Behrend can open its nursing program to more students. The added capacity could support a 40 percent increase in enrollment.
"We have a vested interest in expanding and enhancing our nursing education," Chancellor Ralph Ford said. "Many of our nursing graduates stay in this area. They become the front-line health care providers for us, and for our families."
The need for nurses is expected to increase 15 percent nationwide between 2016 and 2026, according to the U.S. Bureau of Labor Statistics. Local demand also is high: Every graduate of Penn State Behrend's 2018 nursing program had a job lined up before classes ended.
"There is an overwhelming need for nurses right now," said Kim Streiff, the campus coordinator of Penn State Behrend's nursing program.
The new simulation bays will better prepare students for the countless scenarios nurses face. One lab is designed for intensive care and medical-surgical simulations; a second is equipped for obstetrical/neonatal simulations. The third lab can be adapted for use in medical-surgical, pediatric or psychiatric simulations.
"You can't always predict the type of patient you're going to see," Streiff said. "These labs allow us to create and simulate different scenarios, which give students an opportunity to practice in a realistic learning environment."
The expansion was funded by a grant from the Orris C. and Beatrice Dewey Hirtzel Memorial Foundation, which is based in North East. Previous gifts from the foundation provided more than $1 million for science education at Penn State Behrend.
Additional equipment in the simulation bays was purchased through a grant from the Dr. and Mrs. Arthur W. Phillips Charitable Trust, of Oil City.
The enhancements position the college to work with new community partners. Faculty members already offer Spanish-language training for nurses at local hospitals.
"This equipment and the added capacity in our skills lab allows us to not only grow our nursing program, but to be a regional leader in nursing education," Streiff said.
Contact
Robb Frederick
Assistant director, news and information, Penn State Behrend