More than 2,600 Pennsylvania jobs can be attributed to Penn State Behrend, study finds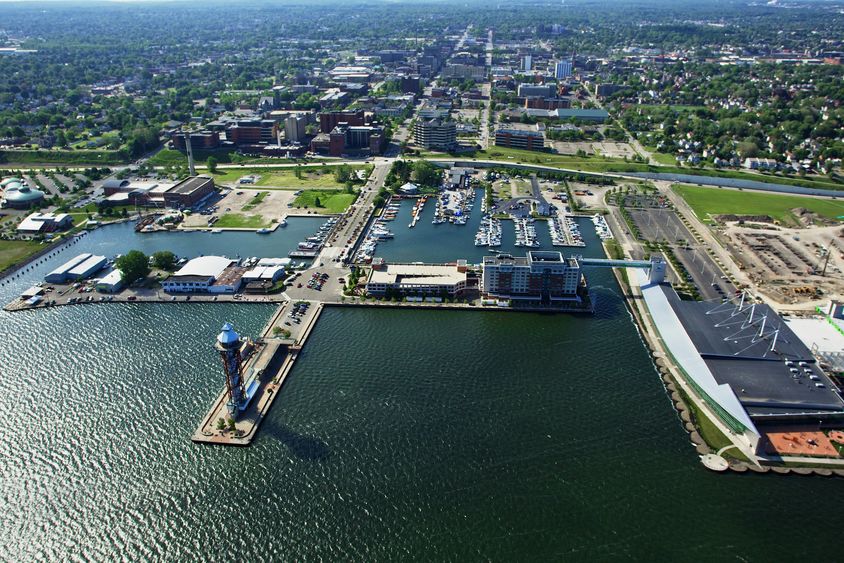 UNIVERSITY PARK, Pa. — Penn State Behrend contributed $178.9 million to the Pennsylvania economy in FY 2017 and supported, directly and indirectly, more than 2,600 Pennsylvania jobs, according to a new study, released by Penn State on Feb. 26. The study measured the University's impact in communities across the Commonwealth.
Overall, the study found that Penn State is an economic powerhouse, contributing more than $11.6 billion to the state's economy. More than 102,000 Pennsylvania jobs can be attributed to Penn State on the whole, the study found, and for every $1 in state appropriations received by Penn State, the University returns $1.24 in tax payments to the Commonwealth.
At Penn State Behrend, where an open-lab model of engagement promotes research and product-development partnerships with business and industry, University support has even more reach.
"Penn State Behrend is a pillar of the economy in northwestern Pennsylvania," Chancellor Ralph Ford said. "We are unique within Penn State: As a four-year destination college for students who prefer a mid-size campus experience, we draw students from across the country and around the globe. Our focus on engagement with the private sector threads those students into the region's workforce, where, through our open-lab model of engagement, they create and refine the products and technical processes that are moving the Erie region forward."
"By any measure, Penn State is a powerful economic engine for Pennsylvania, contributing billions of dollars each year to the economy in communities across the Commonwealth, educating more than 98,000 students annually, and creating many thousands of jobs," said Penn State President Eric J. Barron. "This study highlights the widespread nature of Penn State's economic contributions. Our University, with 24 locations across the Commonwealth, an academic medical center and a growing health system, is an engine that drives the economy and improves lives in all 67 Pennsylvania counties."
The study employed a best-practice model, endorsed by the Association of Public Land-Grant Universities (APLU) and the American Association of Universities (AAU), to measure Penn State's annual contribution to Pennsylvania's economy. The study focused on quantifying the direct and extended impact of the University's spending on goods and services in Pennsylvania, employee pay and benefits, spending on renovations and new facilities, student spending, and operations expenditures for Penn State Health. It also found that Penn State's 24 campus locations spread the University's economic contributions to all corners of Pennsylvania, in a way that is unmatched by any other university in the Commonwealth.
Other measures of Penn State's contributions
The study provides an important view of Penn State's contributions by certain measures. Ford also highlighted that there are many other ways in which Penn State Behrend generates economic activity in Erie County and benefits Pennsylvania students, families and residents.
Penn State Behrend generates additional economic impact through its stewardship of Knowledge Park, a University-owned technology complex that is home to 20 companies and more than 500 employees, and Innovation Commons, an idea lab that has leveraged more than $1.6 million in funding to support local entrepreneurs.
"Innovation Commons has become a hub for local inventors," Ford said. "Our students have partnered with local start-ups to bring six new products to market. Their success led to the formation of the Northwest Pennsylvania Innovation Beehive Network, a coordinated effort to provide start-up help to companies at every point in that process."
Penn State Behrend's secondary impacts not measured by the study also include:
Business revenue and personal income generated by visitors to campus;
Donations of money and time by students, faculty, staff and alumni in support of important regional causes, including the United Way of Erie County;
Research and expert guidance on the region's top social issues, including teen-pregnancy prevention and youth aggression, through the Susan Hirt Hagan Center for Community Outreach, Research, and Evaluation;
Advanced environmental research through Pennsylvania Sea Grant, which promotes stewardship of Lake Erie and its watershed;
A $4 million partnership with Erie Insurance to provide scholarships and research stipends for local students; and
An expansive, year-round youth outreach program that engages with more than 24,000 students and teachers every year.
Impacting communities
In addition to overarching contributions, the study highlights the significant local influence of Penn State's campuses on the state's economy and citizenry. Outside of University Park and Penn State Health, the study found that Penn State operations and student spending at campus locations across the Commonwealth generated more than $2 billion in total economic contributions, mostly to the county in which each campus is situated.
More than 95 percent of Pennsylvania residents live within 30 miles of a Penn State campus, and 75 percent live within 15 miles, putting a world-class Penn State degree within driving distance for most Pennsylvanians. The University's 19 undergraduate Commonwealth Campuses play a critical role for Pennsylvanians statewide, serving more than 30,000 students and employing more than 8,000 full- and part-time faculty and staff members.
"Along with fulfilling our land-grant mission to provide an accessible and affordable education to Pennsylvania citizens, the campuses have a powerful economic impact throughout the Commonwealth, tie Penn State philanthropy and volunteerism to local communities, and support our strategic efforts and moral imperative to foster diversity and inclusion," Barron said in recent remarks to the Penn State Board of Trustees. "Our campuses help Penn State to serve the families of Pennsylvania, enabling students to access a world-class education and to live at home, work and go to school in their own communities."
To read the full study, visit https://wwwpsu.edu/ur/newsdocuments/Penn-State_Economic-Contribution-Study_February-2019.pdf. To learn more about Penn State Behrend, visit behrend.psu.edu.
Contact
Robb Frederick
Assistant director, news and information, Penn State Behrend