12,000-square-foot building will be new home for Susan Hirt Hagen Center for Community Outreach, Research and Evaluation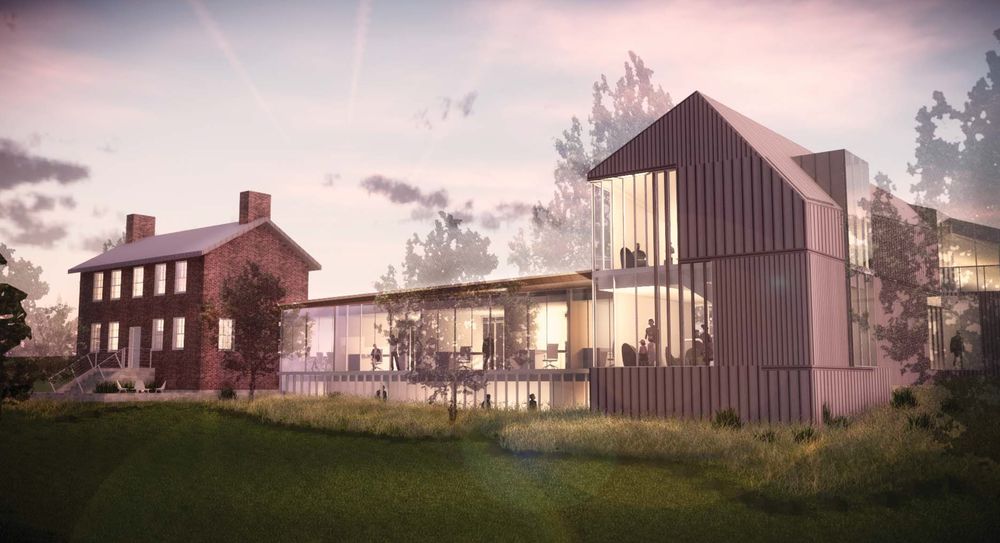 ERIE, Pa. — Penn State Behrend will renovate and repurpose the historic Federal House, the oldest brick structure in Harborcreek Township, to create a new home for the Susan Hirt Hagen Center for Community Outreach, Research, and Evaluation (CORE). The $6.3 million project will be funded by private support and by the University.
With funding in place and a preliminary design by GBBN Architects, which renovated the Erie Art Museum in 2014, Penn State Behrend will preserve the original brick structure of the Federal House and connect it to a new, modern-design building that will allow CORE to expand its programs, which have an impact on more than 3,000 youth across the Erie region of Pennsylvania every year.
"This renovation and expansion project will result in a simple but graceful building that preserves a historic structure, adds character to the Penn State Behrend campus and creates new training, programming and partnership opportunities for CORE that will serve the youth of the Erie region," Penn State Behrend Chancellor Ralph Ford said.
CORE, an outreach center of the college's School of Humanities and Social Sciences, was established in 1998 through a gift from Susan Hirt Hagen, the first woman to serve on the Board of Directors of the Erie Indemnity Company, parent company of the Erie Insurance Group.
The program originally focused only on teen-pregnancy prevention. In 10 years, CORE and its Positive Youth Development initiative contributed to an 80-percent reduction of the teen-pregnancy rate at Union City High School.
Over the same period, the dropout rate at the school decreased by 63 percent.
"CORE faculty and staff conduct research that promotes positive outcomes for youth and also partner with community, educational and government organizations to improve their programming through professional evaluation," said James Hodge, director of CORE. "The truest measure of success, however, is in the stories of at-risk youth who participate in our mentoring programs. Hearing how these students use the skills they have gained to navigate the challenges of adolescence and early adulthood is what motivates our team to do the work we do."
CORE provides programming to elementary, middle- and high-school students across Erie County. Signature community programs include the Mentor Project, which matches at-risk youth with trained college students and community members at 10 sites in Erie County, and Positive Youth Development, which applies the 40 Developmental Assets framework to create a comprehensive safety net of school, community and family support resources.
Renovation of the Federal House will allow CORE to expand both its school-focused programs and its partnerships with key community groups, including Erie Insurance, the Erie Community Foundation and the United Way of Erie County; advance its partnership with the Community Schools initiative; and expand opportunities for contemporary research and outreach by Behrend students who work with CORE faculty and staff.
The Federal House, which is located in Erie, Pennsylvania, on Station Road – originally known as Colt Station Road – is believed to have been built in 1838 by Thomas Bonnell, a cobbler. Bonnell and his wife, Eva, raised nine children in the two-story home, which also served as a stagecoach stop.
Later, the home was used as a "safe house" for slaves traveling the Underground Railroad. One of the fireplaces hid a tunnel, according to records from the Harborcreek Historical Society.
Longtime supporters of the college Larry and Kathryn Smith donated the house and its surrounding property to Penn State Behrend in 1988. The college took steps to preserve the building – cleaning and restoring the masonry, replacing the roof and installing new windows – but has not used the house.
Private support for the Federal House project advances "A Greater Penn State for 21st Century Excellence," a focused campaign that seeks to elevate Penn State's position as a leading public university in a world defined by rapid change and global connections. With the support of alumni and friends, "A Greater Penn State" seeks to fulfill the three key imperatives of a 21-century public university: keeping the doors to higher education open to hardworking students regardless of financial well-being; creating transformative experiences that go beyond the classroom; and impacting the world by fueling discovery, innovation and entrepreneurship. To learn more about "A Greater Penn State for 21st Century Excellence," visit greaterpennstate.psu.edu.
Contact
Robb Frederick
Assistant director, news and information, Penn State Behrend