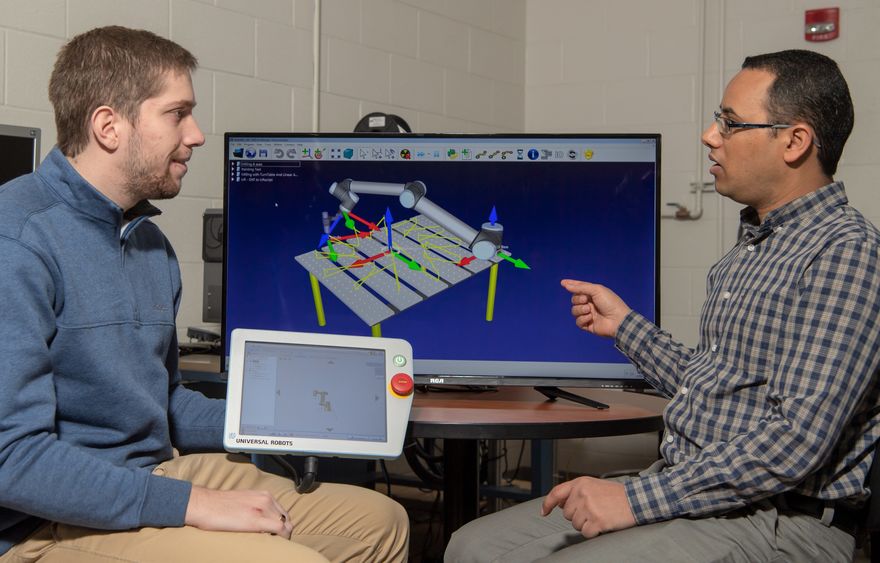 ERIE, Pa. — In-kind gifts of software from global IT solutions provider Siemens are giving engineering and business students at Penn State Behrend access to three industry-leading design and manufacturing management platforms. Two additional gifts of software from RoboDK Inc. and Riskalyze Inc. likewise are benefiting Behrend students.
The Siemens donations, valued at $10.8 million, provide access to NX high-end CAD/CAM/CAE software for design, simulation and manufacturing. Students and faculty members also have access to Teamcenter, the world's most widely used product lifestyle management system, and Fibersim for design, analysis and manufacture of composite materials and parts.
"These gifts support both teaching and research at Penn State Behrend," said Faisal Aqlan, assistant professor of industrial engineering, "and will give our students excellent tools for building the skills they need to succeed in their work."
RoboDK's in-kind donation of software, valued at $90,000, gives engineering students the opportunity to use simulation software for robotics applications.
"The software will be used to teach our students how to program robots offline and work on manufacturing projects that involve automated processes," Aqlan said.
The RoboDK platform will also be used in research initiatives with local industry as well as undergraduate senior design projects.
The donation from Riskalyze, valued at more than $83,000, gives students in the Black School of Business access to that company's investment risk-assessment software for use in stock-trading simulations and management of the school's Intrieri Family Student Managed Fund.
Eric Robbins, lecturer in finance, uses the software to introduce students to the world of investment by exploring different types of investments, comparing them in terms of risk and other dimensions, and learning how to combine different assets to form a portfolio.
"When it comes to financial education, I think it's extremely important to bring in tools that students are going to use when they enter the workforce," Robbins said. "Riskalyze software exposes students to the technology that professionals are using every day and allows them to experience real-life investment decision scenarios."
The software gifts advance "A Greater Penn State for 21st Century Excellence," a focused campaign that seeks to elevate Penn State's position as a leading public university in a world defined by rapid change and global connections. With the support of alumni and friends, "A Greater Penn State" seeks to fulfill the three key imperatives of a 21st-century public university: keeping the doors to higher education open to hardworking students regardless of financial well-being; creating transformative experiences that go beyond the classroom; and impacting the world by fueling discovery, innovation and entrepreneurship. To learn more about "A Greater Penn State for 21st Century Excellence," visit greaterpennstate.psu.edu.
Contact
Robb Frederick
Assistant director, news and information, Penn State Behrend