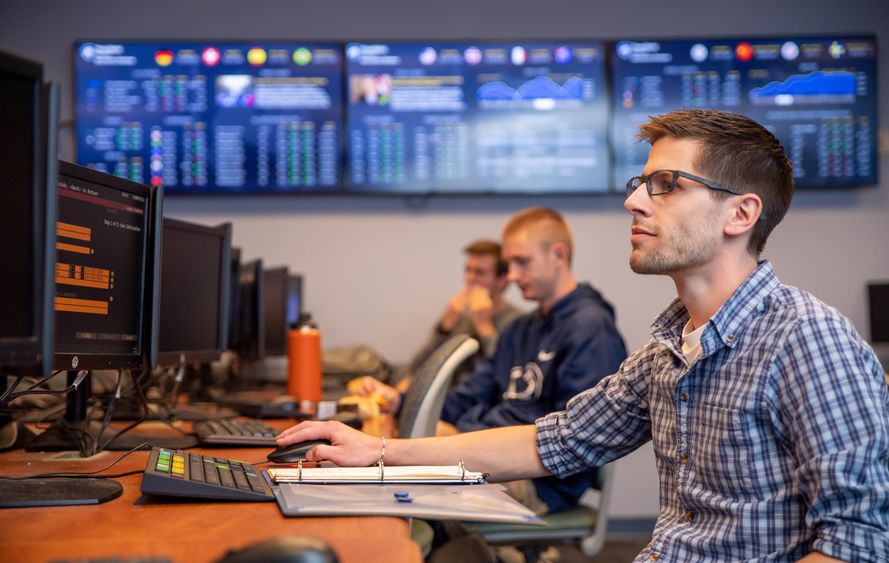 ERIE, Pa. -- The Black School of Business at Penn State Behrend has added 10 Bloomberg Terminal subscriptions to its finance lab in Burke Center. The Bloomberg Terminal provides real-time and historical financial data, analytics and market news for every asset class.
An 11th new Bloomberg Terminal has been installed in Trippe Hall, the college's newest residence hall. That brings the total number of Bloomberg Terminals at the college to 12.
"In terms of business data, Bloomberg is the gold standard," said Greg Filbeck, director of the Black School of Business. "There is no more comprehensive database of news, market data and financial information."
Bloomberg was founded in 1981 and created an electronic network long before investors had access to the internet and 24-hour financial news networks. The platform integrates real-time data and research in every market and asset class, from fixed income to equities, commodities and derivatives.
Bloomberg's color-coded keyboard allows users to quickly complete common actions. An early model was included in the "American Enterprise" exhibit at the Smithsonian's National Museum of American History.
Penn State Behrend was the first college in the region to have a Bloomberg Terminal, which is located in Burke 158.
"It was being used constantly," Filbeck said. "People were coming in at all hours, including late in the evenings, to have access to it."
The new Bloomberg Terminals will improve student access to the Bloomberg network: Faculty members will now be able incorporate Bloomberg data in their in-class teaching. Students also can earn a Bloomberg Market Concepts certification by completing an e-learning course, which consists of three sections: Core Concepts, Getting Started on the Terminal, and Portfolio Management.
Students in all majors will have access to the Bloomberg Terminals. The Black School of Business is offering four different Bloomberg Terminal seminars to students and faculty members this semester. Another five seminars will be offered in the spring.
Students who work with the Intrieri Family Student-Managed Fund, which currently has a value of more than $750,000, also will use the new Bloomberg Terminals, Filbeck said.
Students also will have access to a Bloomberg Terminal in Trippe Hall. That will benefit students in the college's Global Boarders program, an international-focused community of students who want a culturally diverse living-learning environment. Global Boarders is open to first- and second-year students who intend to major in a business discipline, and to all students in the international business major.
Contact
Robb Frederick
Assistant director, news and information, Penn State Behrend