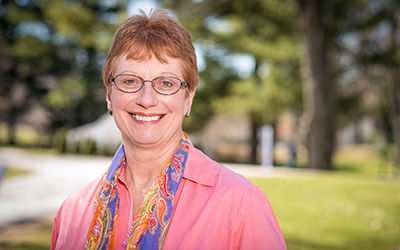 Dr. Priscilla Hamilton, a 1978 graduate of Penn State and a member of the board of directors of Penn State Behrend's Council of Fellows, is being honored as one of 16 Penn State Alumni Fellows for 2019.
The lifelong title of Alumni Fellow is the highest award given by the Penn State Alumni Association.
Hamilton is a retired U.S. Army colonel and former commander of DENCOM, the Army's dental care system, a role that gave her oversight of all Army oral health care and dental clinics around the world. She is a veteran of the Gulf War.
Hamilton attended Penn State Erie, The Behrend College, for two years and graduated from the University Park campus with a bachelor's degree in science. During her time at Penn State, she was integral in creating the Army ROTC program at Penn State Behrend and was the University's first female ROTC cadet brigade commander.
She went on to receive her doctoral degree in dental medicine from the University of Pittsburgh, and later received master's degrees in health care administration from Baylor University and in strategic studies from the U.S. Army War College.
Hamilton's relationship with Penn State predates her enrollment as a student; her father, John Hamilton, was a longtime Behrend instructor. She continues to have close ties to the college, serving on the Council of Fellows board and on the college's Campaign Committee. In 2018, she created the Priscilla Hamilton Open Doors Scholarship at Behrend, aimed at helping students who have the highest level of financial need.
Hamilton returned to her family's Harborcreek home after retiring from active duty in 2015, and she is involved in several community and volunteer organizations.
The Alumni Fellow program is administered by the Penn State Alumni Association in cooperation with the University's academic colleges, campuses, and the Office of the President. Alumni are nominated by a college or campus as leaders in their professional fields and accept an invitation from Penn State President Eric J. Barron to return to campus to share their expertise with students, faculty and administrators. Hamilton will be on campus this week to meet with the Penn State Behrend community.
Contact
Robb Frederick
Assistant director, news and information, Penn State Behrend