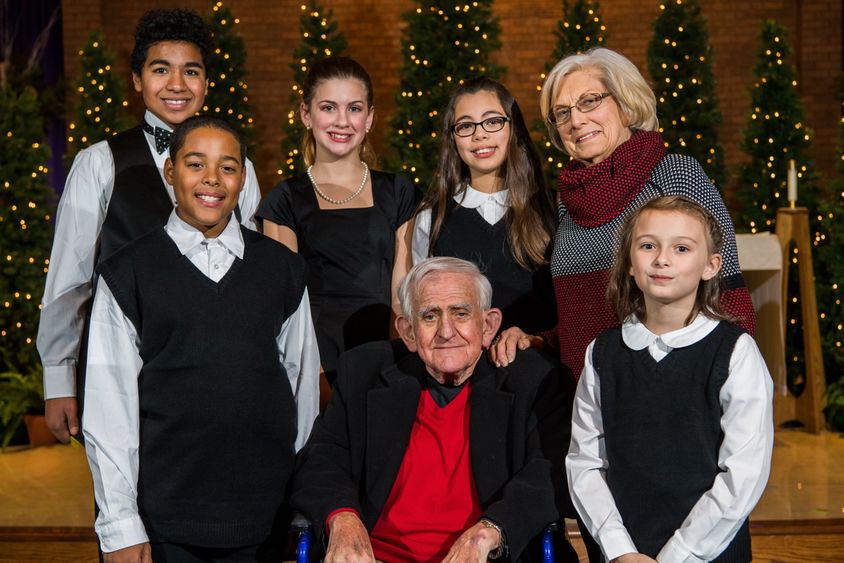 William M. "Bill" Hilbert, Sr., a longtime friend and supporter of Penn State Behrend, died Sunday, Nov. 3, in Erie. He was 83.
Hilbert was the former president, CEO and chairman of the board of PHB Inc., located in Fairview, and the former chairman of the board of Reddog Industries in Erie. He was a member of Penn State Behrend's Council of Fellows and was actively involved in the Erie business community, including serving on the boards of Saint Vincent Health Center and The Erie Community Foundation.
"Bill represented a generation of business leaders whose vision and hard work laid the foundation for the Erie region's manufacturing base as we know it today," Chancellor Ralph Ford said, "and in the larger community, the Hilberts made a genuine impact through their involvement and support of a range of programs and causes. Penn State Behrend is among those that have benefited from their generosity."
In 2000, Hilbert and his wife, Martha, created the William M. and Martha M. Hilbert Family Scholarship Endowment at Penn State Behrend, and the couple also supported the Reddog Industries, Inc. Scholarship Endowment at Behrend. To date, the funds have generated more than $200,000 in scholarship awards to Behrend students.
The Hilberts also have been longtime advocates of the mission of the Young People's Chorus of Erie (YPC), an outreach program of the college's School of Humanities and Social Sciences. Since 2009, when YPC was established, the Hilberts' philanthropic support has provided tuition assistance to students participating in the program and also funded uniforms, sheet music, instruments and other supplies.
In 2017, when the Hilberts made their most recent gift to YPC, Martha Hilbert described their interest in supporting the chorus, saying, "YPC Erie offers a sense of achievement while also helping to build imagination and creativity. It helps young people, no matter what their socioeconomic circumstance, find their voice, making them more confident and positioning them for future success."
In addition to his wife, Martha, Hilbert is survived by four children, seven grandchildren, and three great grandchildren. Funeral services were held Friday, Nov. 8, with entombment at Erie's Calvary Cemetery Mausoleum.
Contact
Robb Frederick
Assistant director, news and information, Penn State Behrend