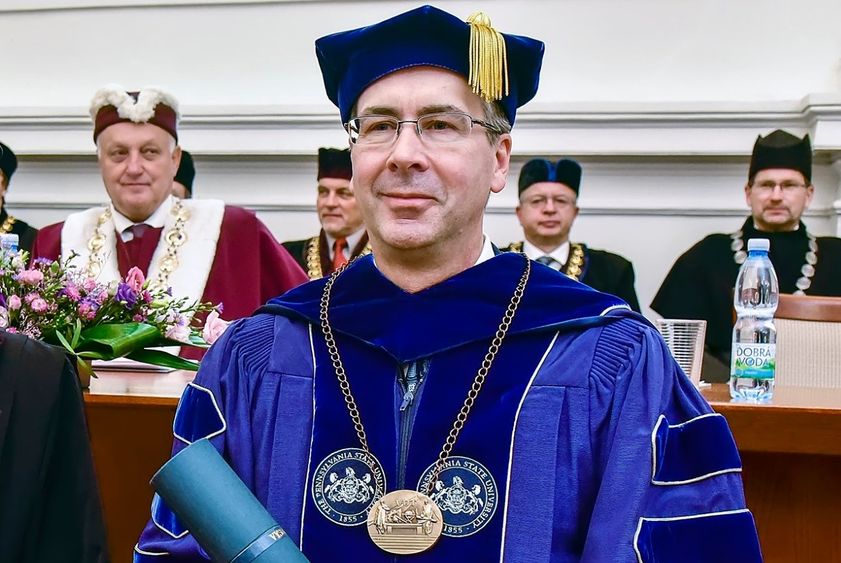 ERIE, Pa. — Brno University of Technology has awarded an honorary doctorate to Penn State Behrend Chancellor Ralph Ford, who previously taught at Brno as a Fulbright Scholar. The ceremony was held during an academic assembly that commemorated the 120th anniversary of Brno, the largest technical and engineering university in the Czech Republic.
Ford taught at Brno in 2005. That led to a long-term collaboration between faculty members at Brno and Penn State Behrend, including research projects, faculty visits and student exchanges.
"It is clear that Professor Ford belongs among the most respected and honest scholars," Pavel Zemcik, dean of the Faculty of Information Technology at Brno, wrote in his nomination of Ford for an honorary doctorate. "The influence and inspiration Professor Ford and Penn State Behrend brought to our faculty was very important and useful. I hope that in the future the collaboration will be even more intensive."
Ford was named chancellor of Penn State Behrend in 2016, after serving as interim chancellor and, prior to that, as director of Behrend's School of Engineering. He has been a Penn State faculty member since 1994.
As associate dean for industry and external relations, a role he assumed in 2013, Ford coordinated the college's open-lab model of industry-academic collaboration, which brings students and faculty members together with private-sector partners for experiential student learning, applied research and advanced product development. He oversaw the college's strategic partnership with Knowledge Park, a 100-acre technology hub where 20 companies employ more than 500 people, and led development of the $16.5 million Advanced Manufacturing and Innovation Center, which added 60,000-square-feet of manufacturing, materials and prototyping labs.
Ford holds bachelor's, master's and doctorate degrees in electrical engineering, earned at Clarkson University and the University of Arizona. Before joining academia, he worked as an engineer and researcher at IBM and Brookhaven National Laboratory. He also served as a vice president of the Institute of Electrical and Electronics Engineers, the largest technical professional society in the world.
In its 120-year history, Brno has granted just 69 honorary degrees. Previous recipients include Nikola Tesla and Tomas Garrigue Masaryk, the first president of Czechoslovakia.
"I do not take this recognition lightly," Ford said during the Brno academic assembly, which was held in the Brno City Theatre. "In accepting it, I commit to continuing to promote and pursue the ideals of higher education and building the connections between our respective institutions.
"At Penn State Behrend, our belief is that universities can be living laboratories where learning and discovery are applied to solve the world's problems," he said. "Through the open-lab model, a consistent flow of people, resources and innovation can be established, advancing efforts to transfer technology into useful products and supporting the development of economies in the ways that universities are uniquely positioned to accomplish."
Contact
Robb Frederick
Assistant director, news and information, Penn State Behrend