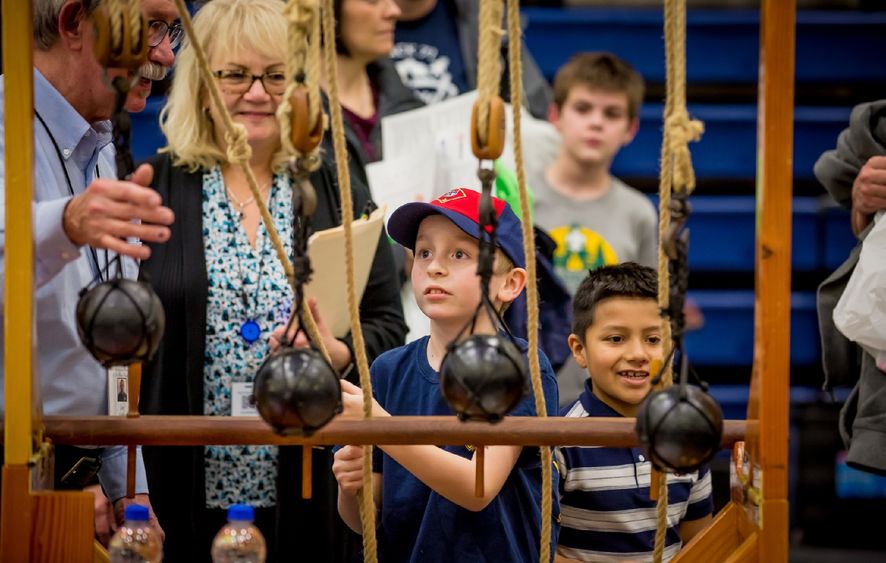 ERIE, Pa. — Jacob O'Sullivan watched as a child cheered on a robot that was navigating a small obstacle course in Penn State Behrend's Junker Center.
"You can see the light go on in their eyes," he said. "It's really great to see kids getting so excited about science."
O'Sullivan, 22, is a computer engineering major at Penn State Behrend. He expects to graduate in 2021.
He's also an intern at Wabtec. He helped with one of the company's exhibits at the sixth annual Penn State Behrend STEAM fair on Feb 10. Nearly 80 companies, clubs and community organizations offered hands-on demonstrations at the event, which promotes science, technology, engineering, art and mathematics learning.
Wabtec and WQLN partnered with Penn State Behrend to sponsor the STEAM fair, which was free and open to the public. More than 1,500 people attended.
Emma Russell, 9, came with her family and friends. She was almost eaten by a lion, thanks to a green-screen animation program that put her in a virtual safari.
"We came last year and wanted to come again because it was so much fun," she said.
Her mother, Cari Russell, is an eighth-grade science teacher. She loves the hands-on approach at Behrend's STEAM fairs.
"As a parent, I want her to think about a STEAM career, especially as a girl," Russell said. "Giving her a chance not only to see but try all of these technologies and activities is a great introduction."
The fair — the college's largest single-day outreach effort — began as a way to show younger kids the range of job opportunities that are available in STEAM fields. It also showed that the work can be fun, said Melanie Ford, director of Penn State Behrend's Youth Education Outreach efforts and a lecturer in computer science and software engineering.
"The goal is to grow the next generation's interest in STEAM careers," she said, "and that begins with getting young children excited about STEAM concepts."
The best way to ignite that interest, Ford said, is with a hands-on experience. Nearly all of the exhibitors at this year's STEAM fair brought interactive learning opportunities: A high school robotics team brought Lego robots, and members of the Penn State Behrend chemistry club wowed kids with bubbles made from dry ice. A portable planetarium allowed other kids to get lost in the stars.
Kathy Woodard, the education manager at WQLN, encouraged children to get their hands sticky while making fluffy slime.
"This event is all about the kids," she said. "We want to show them STEAM can be fun. It's a chance for them to explore and learn."
In addition to Wabtec, WQLN and Penn State Behrend's clubs and organizations, exhibitors included volunteers from the Erie Maritime Museum, Port Erie Plastics and the Erie Philharmonic.
The Philharmonic brought virtual-reality goggles, allowing kids to feel as if they were sitting on stage in the Philharmonic's "Virtual Orchestra." The Philharmonic also debuted a conductor-themed video game that is being developed with Penn State Behrend students.
"We want kids to make the connection between technology and the arts," said Steve Weiser, the Philharmonic's executive director. "An event like this could be the spark that gets one of these kids interested in a career involving anything from the arts to coding."
Contact
Robb Frederick
Assistant director, news and information, Penn State Behrend