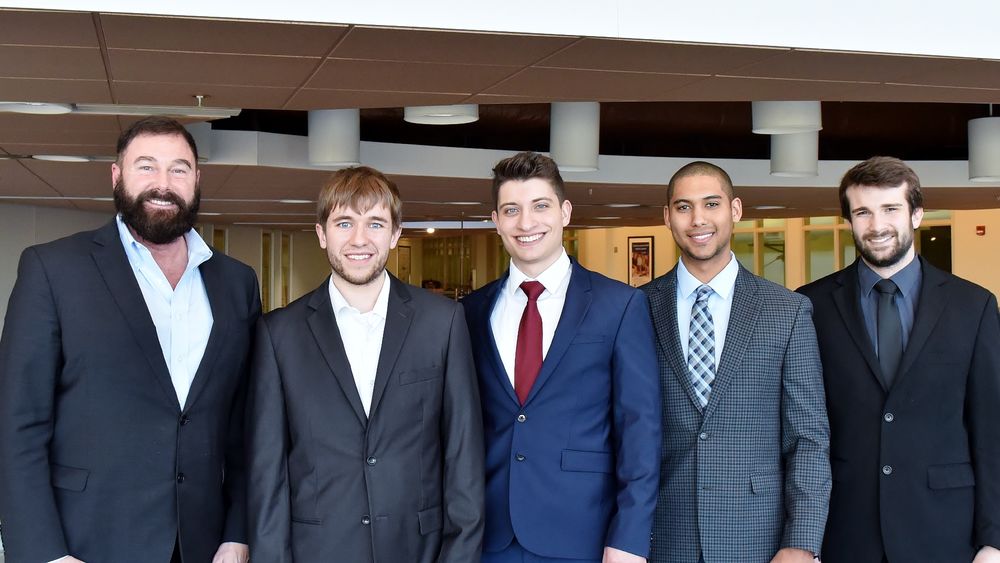 ERIE, Pa. — Lewis Lippl spent his Christmas vacation studying the financials of Evoqua Water Technologies, a Pittsburgh-based company with more than $346 million in revenue.
"Six hours a day," he said. "Every day of the break."
He liked what he saw: Evoqua operates industrial and municipal water systems in 10 countries. The company also provides emergency services for treating industrial and utility wastewater.
"That business is always going to exist," said Lippl, a senior in Penn State Behrend's Black School of Business. "It's not like a coal company, which could be replaced by new technology. We're always going to need clean water."
Lippl does have some reservations, however. This week, he and three classmates — Jon Battles, Trevor Dinsmore and John McDermitt — will travel to Pittsburgh to present their financial analysis of Evoqua at the CFA Institute Research Challenge, a global student investment competition. They will argue for a "hold" strategy with Evoqua stock at $22.44 per share.
The water industry already is fragmented, with most utilities serving fewer than 3,000 customers. Brexit, trade tensions with China and proposed U.S. legislation that would reclassify two chemicals that often are present in wastewater could complicate Evoqua's future earnings, according to the Behrend team's valuation.
For those reasons, the team said it is issuing a "hold" recommendation.
Each member of the team spent approximately 100 hours researching Evoqua. To support their recommendation, they wrote a 10-page paper — with a 20-page appendix. This week, at the CFA oral presentations, they will have just 10 minutes to convince a panel of financial analysts that their valuation of the company is correct.
The CFA Institute started the global research challenge in 2006. More than 6,100 students competed in last year's event, which included universities in 95 countries. Teams are judged on their ability to value a stock, write a research report and present their recommendations.
"The knowledge our students gain from this is invaluable," said Greg Filbeck, director of the Black School of Business and a professor of finance. He serves as the team's adviser.
"They basically have done everything they will need to do to perform in industry, and they have a showpiece that they can take forward as they begin to interview for positions," he said. "It's a testimony to their dedication and their willingness to commit the extra time to it."
The team met with executives at Evoqua, and with an industry mentor. The students also applied their experience with the Intrieri Family Student Managed Fund, which invests real money in the markets. Three of the four team members have helped manage the Intrieri fund, which is measured against the S&P 500 and other indexes.
"It was a lot to juggle," said Dinsmore, who also has an internship in the tax office at McGill, Power, Bell & Associates. "There's a lot to learn, and Evoqua is kind of unique, compared to the companies that past teams have analyzed. They're a utility, but they're also a lot more than that."
"We weren't expecting to see such an aggressive acquisition strategy," McDermitt said. "You don't get that in the utility industry."
Teams sponsored by Penn State Behrend won the Pittsburgh CFA competitions in 2016, 2017 and 2019. The 2017 team kept winning: Those students were among the final 21 teams in the global competition.
This year, Behrend students will present alongside students from the University of Pittsburgh, Indiana University of Pennsylvania, California University of Pennsylvania, Grove City College and Penn State's University Park campus.
The winning team will advance to the Americas Regional competition in New York City in April. The top teams there will advance to the global finals, which also will be held in New York.
"We've put a lot of late nights into this," McDermitt said. "We're ready, and we know so much more about the process now. I had always admired the work, but now I appreciate how difficult it really is."
Contact
Robb Frederick
Assistant director, news and information, Penn State Behrend