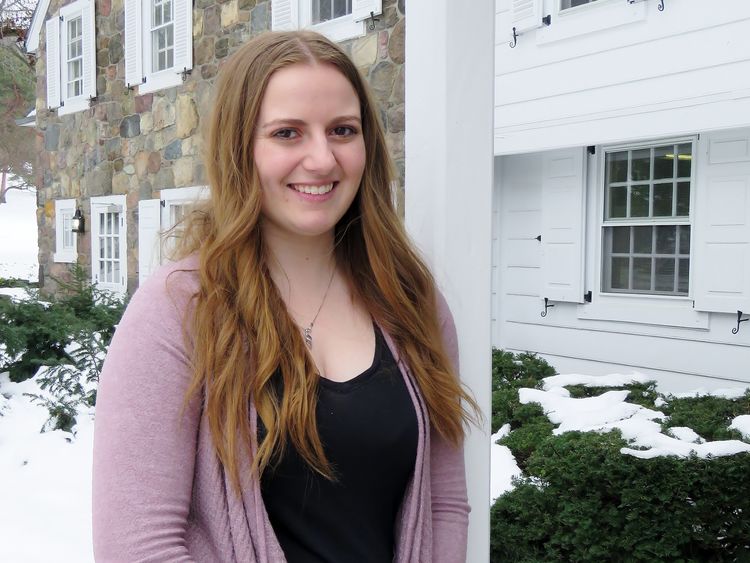 The eyes, we're often told, are the window to the soul. They also offer a pretty clear view of a person's overall health.
"The eye is really interesting, because it can reveal a lot of health problems," said Ashley Price, a senior in the pre-optometry program at Penn State Behrend. "Many people learn they have diabetes because the disease affects the small capillaries in the retina."
Other health issues that can be spotted in the eyes include hypertension, autoimmune disorders, high cholesterol, thyroid disease and even some types of cancer and tumors.
Price had planned to be a family physician but switched to optometry after shadowing an eye doctor while in high school. "I like the personal aspect of optometry," she said. "You see the same patients year after year and can form relationships with them."
Like her career choice, Price's college plan changed course after a firsthand experience.
"I was totally set on going to Pitt," she said, "but then a friend talked me into touring Behrend, and as soon as I set foot on campus, it felt like home."
Price, who is from Fenelton, in Butler County, will graduate in May. She plans to attend optometry school at Ohio State.
She had her choice of schools: She was accepted in six programs and was offered four scholarships, two of them at the highest amount the schools offer.
Price is well prepared for the next step in her career, something she credits, in part, to several School of Science faculty members who kept her on the right path and moving forward.
"The professors at Behrend make sure you get to where you want to go," she said. "They are always behind you and, at the same time, offering to show you the way."
Price had one recognized adviser – Beth Potter, an associate professor of microbiology. But she relied on several other "unofficial" advisers through her course of study, including Todd Cook, an assistant professor of biology and chair of Penn State Behrend's pre-health programs, and Jason Bennett, associate professor of chemistry.
"I could, and did, go to any of them with any questions I had, or if I just wanted advice," Price said.
Penn State Behrend offers pre-health programs in dentistry, medicine, optometry, pharmacy, physician assistant, physical or occupational therapy and veterinary medicine. All require more precise planning than most other majors.
"In my first year at Behrend, I went to a pre-health program in which Mike Campbell (a distinguished professor of biology) talked about how to put together the 'perfect package' for medical school," Price said. "He basically gave us a list of things we could do and accomplish during our undergraduate years that would make us attractive to medical schools."
Price, who also is a student in the Schreyer Honors College, took Campbell's suggestions as a to-do list. She took on leadership roles, gained experience in her field through internships and job shadowing and worked on research projects with her professors.
It's been a formula for success, not only for Price, but also for several pre-health program participants who will graduate in May. Jessie Kibbe and Taylor Hibbard have been accepted into physician assistant programs. Dillon Patel was offered admission to four dentistry schools. Aldyn Poston will attend optometry school. Zainab Karen was accepted to osteopathic medical school but has decided to instead pursue graduate studies at Penn State College of Medicine.
Price, who also is the vice president of the college's Scrubs Club and a Lion Ambassador, said she will miss Behrend, but she's looking forward to taking the next step toward her career goal.
"Optometrists are literally improving people's outlooks," she said. "I'm really looking forward to being able to do that for patients."
Contact
Heather Cass
Publications and design coordinator
Penn State Erie, The Behrend College