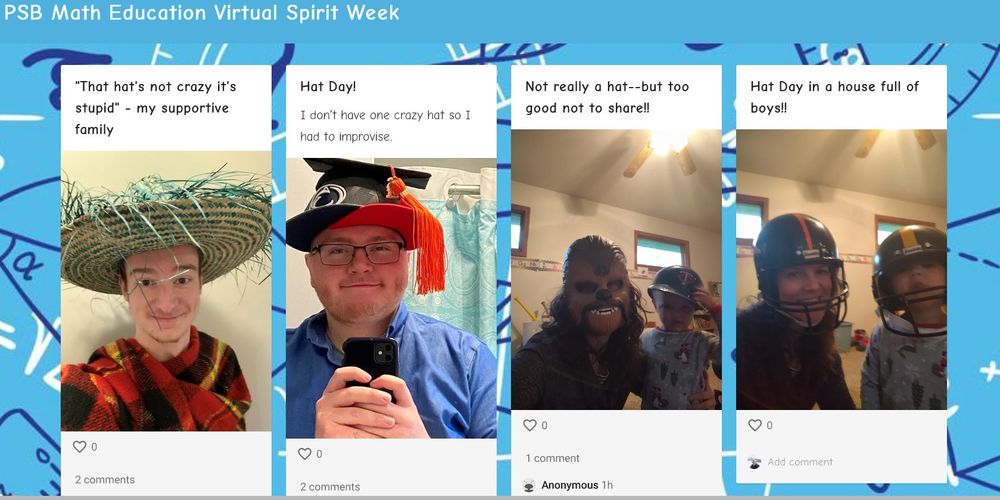 In a "normal" April, faculty members in the secondary math education program at Penn State Behrend would be celebrating their seniors with a slate of events and activities.
"We typically invite everyone in the major together for a dinner in April to honor our graduating students, reflect on the year and spread good cheer as we head into finals week," said Jodie Styers, associate teaching professor of mathematics education. "Obviously, that's not feasible right now."
Styers and her colleagues got together (virtually, of course) to find ways to maintain a sense of community within the major. They came up with an idea that is common in K-12 classes: a spirit week.
"We miss seeing our students and wanted to find a way to stay connected while we're miles apart, so we're hosting a virtual spirit week," Styers said.
Students are invited to dress in a theme each day and post photos to Padlet, an electronic bulletin board used by the secondary math education majors.
Monday is Crazy Hat Day. Tuesday is Superhero Day. Wednesday is Flannel Day. Thursday is Western Wear Day, and Friday is Blue-and-White Day – an invitation to sport their favorite Penn State wear.
It's perfect training, Styers said, for soon-to-be teachers, who, in their new jobs, will be encouraged to participate in spirit days at their new schools.
Contact
Heather Cass
Publications and design coordinator
Penn State Erie, The Behrend College