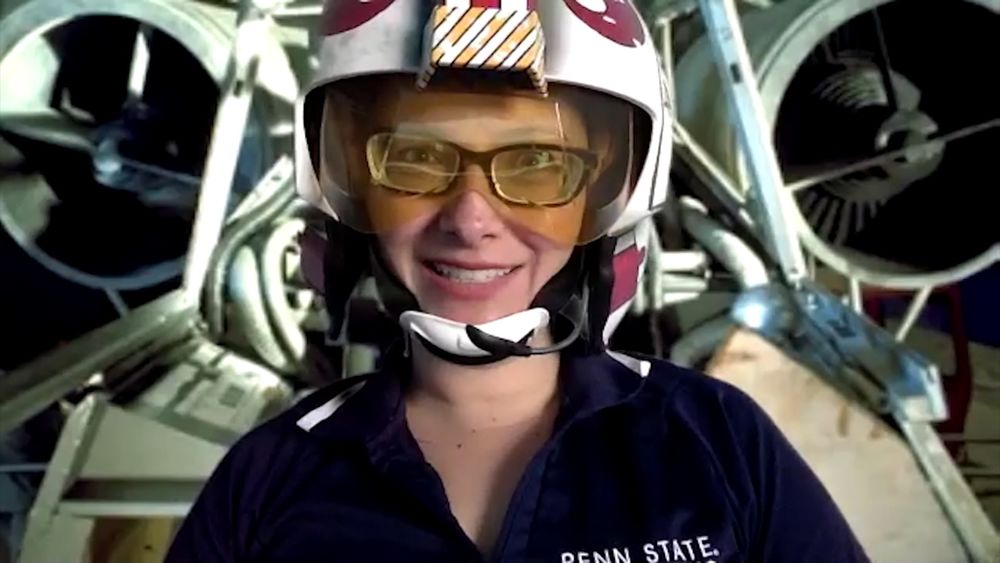 ERIE, Pa. — A long time ago (on Wednesday), in a galaxy far, far away (her guest bedroom, actually), Charlotte de Vries, an assistant professor of mechanical engineering at Penn State Behrend, got into the cockpit of an X-wing fighter, tightened the strap on her crash helmet, and began her class.
De Vries teaches system dynamics and instrumentation. The material can be challenging, and when Penn State transitioned to a period of remote learning, hoping to slow the spread of COVID-19, she worried about some of her students.
"They were under a lot of stress," she said. "We all were. I wanted to do something that would make this a little more fun."
She had set up a temporary teaching space in the guest room of her Erie home. In the closet were her Halloween costumes, including a replica "Star Wars" rebel-pilot helmet. She put it on.
De Vries is one of several Penn State Behrend faculty members who have experimented with custom backgrounds in Zoom, the video-conferencing program most are using to communicate with students.
Richard Zhao, an assistant professor of computer science and software engineering, superimposes himself over photos of the Behrend campus. The college has created more than a dozen Behrend-themed backgrounds and wallpapers, including photos of Glenhill Farmhouse, Lilley Library and Wintergreen Gorge. The images can be downloaded at https://behrend.psu.edu/backgrounds.
Zhao even hung a green screen in the corner of the room where he now teaches. Sometimes he appears on top of his lecture notes, or in the software he's teaching.
Jill Johnson, a lecturer in mechanical engineering, uses photos of the magnolia tree in her yard. It's blooming now, and it's beautiful.
"It's a reminder that spring hasn't been canceled," she said, "even if we have to enjoy it by ourselves."
Dean Lewis, an assistant teaching professor of mechanical engineering, took photos of his office in the Advanced Manufacturing and Innovation Center as he packed up the materials he needed to teach from home. He wanted students to see a familiar view when they meet with him during virtual office hours.
"I was trying to make all of this feel a little more normal," he said.
When students asked if he was still on campus, he laughed and changed the background, putting himself on another planet.
"Maybe they think it's funny, or maybe they think it's a dad joke," he said. "But if it lightens the mood a bit, then it served its purpose."
De Vries keeps adding new backgrounds. With the right color of shirt, she has learned, her head appears to float, separated from her body. She worked that into a "Futurama" gag, putting her head in a cartoon jar.
"The students seem to appreciate it," she said. "A few of them have messaged me about it."
Some have responded with their own backgrounds, or with personalized icons for their profile photos.
"I guess the pressure's on," de Vries said. "I have to step up my Zoom game."
Contact
Robb Frederick
Assistant director, news and information, Penn State Behrend