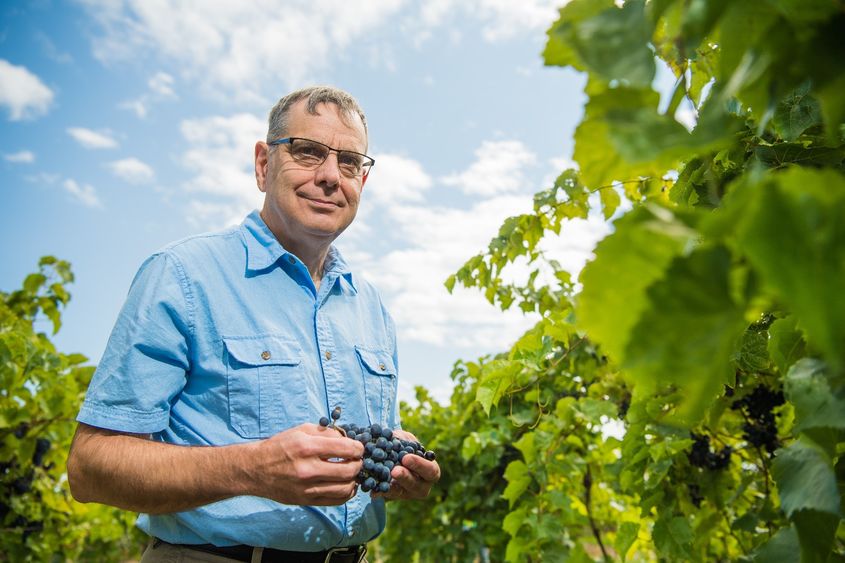 ERIE, Pa. — Michael Campbell, professor of biology at Penn State Behrend and director of the Lake Erie Regional Grape Research and Extension Center (LERGREC), recently added another highly significant word to his academic title: Distinguished.
The designation of distinguished professor recognizes outstanding academic contributions to the University and service to students. Campbell joins two other Behrend faculty members who hold the title: John Gamble, distinguished professor of political science and international law; and George Looney, distinguished professor of English and creative writing. The title serves as the sign of an educator, like Campbell, who has spent decades going above and beyond.
Though he doesn't point it out, it's clear that for Campbell, who started at Behrend in 1994, one key to success is his ability to adapt to changing conditions, much like his favored research subjects — plants — are known to grow toward the light or send down deeper roots to find the nutrients they need.
Penn State Behrend recently talked to Campbell about his career and accomplishments.
Q: Have you always wanted to be a professor?
Campbell: Actually, no. I thought I would work in the plant science industry, but my intention when I finished graduate school was to work for a company or develop my own industry.
Q: What did you do before coming to Behrend?
Campbell: I worked for the U.S. Forest Service as a geneticist, then for the U.S. Dept. of Agriculture as a physiologist.
Q: What do you enjoy about teaching?
Campbell: That has changed a bit over the years. At first, it was great just to see students learn and discover new material and ideas in the classroom. But over the years, my outlook has become more holistic: It's not only about teaching specific subjects but helping students develop a career path as well.
Q: What is the most important quality for a professor to possess?
Campbell: The desire to work, and to help others. It is critical for a professor to enjoy the subject matter they are a specialist in, but to be a teacher at a place like Behrend, you need to also find joy in helping students find their way. It's a big part of what we do here.
Q: What have you had to learn the hard way?
Campbell: Teaching is a moving target. Each class has a group personality, and there is no one-size-fits-all approach to presenting the material. Each semester is a bit different.
Q: How do you balance teaching, research and running the grape-station research lab?
Campbell: At times, I feel like a short-order cook, trying to make the entrée finish at the same time as the side dish. It has been a challenge to find the time to work on projects and to dedicate time to students as they work on their own projects. That said, the balance is about what I expected. I think being active in research helps me as a teacher, particularly with upper-division class material.
Q: This semester, you had to quickly transition your classes to remote learning. How did that go?
Campbell: It was definitely a challenge, especially because we had to adapt so quickly. Ultimately, though, I think this experience has been beneficial. It has given me some new approaches to teaching that I probably would not have pursued.
Q: What research project at LERGREC are you excited about right now?
Campbell: My research work involves regulating sprouting in potatoes, and I'm still working on that, but I can see an overlap with connecting that work to controlling growth in grapes. As the climate becomes more erratic, grape growers may benefit from preventing premature growth during warm winter weather. Connecting what we have learned about regulating growth in stored potatoes to controlling grape growth in the vineyard is a new and exciting avenue for research.
Q: What's the most important thing a professor can do for a student?
Campbell: Be a good mentor. A professor's role is to guide a student and show them the way. Success is up to the student.
Q: What advice do you have for professors in the first years of their career?
Campbell: Enjoy what you do. Keep chugging away. True success is an accumulation of small accomplishments built over time.
Contact
Heather Cass
Publications and design coordinator
Penn State Erie, The Behrend College