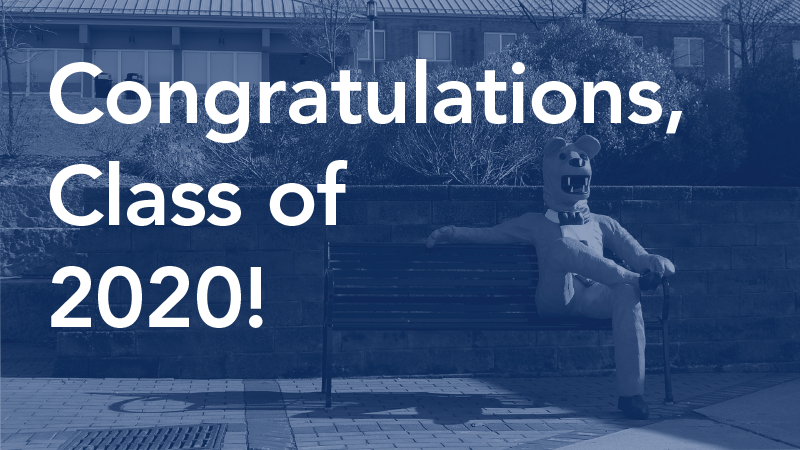 ERIE, Pa. — Penn State Behrend awarded 674 undergraduate and graduate degrees as part of the University's spring 2020 commencement program. Because of the COVID-19 crisis and continuing restrictions for public gatherings, the May 9 program was virtual, with a University-wide livestream. A recording of the program may be viewed at https://spring2020.commencement.psu.edu/
A separate webpage for Behrend graduates featured videos and digital slides for each of the college's graduates. Faculty, staff, families and friends were invited to join the celebration by offering best wishes to graduates on social media, using #BehrendGrad.
As in other years, graduates heard from Chancellor Ralph Ford, who recorded a video greeting to the Class of 2020.
"You are in a unique position to shape the future — how we respond to this crisis, and how we grow as a country," he said. "As we move forward together, each of you will have a unique role and individual contribution. That will require reason, critical thinking, ingenuity, innovation and compassion. These are tools that I believe you have developed at Penn State Behrend. I challenge you to continue to develop them as you grow and mature."
At every Penn State Behrend commencement, the students with the highest cumulative grade-point average in each school, and in the Schreyer Honors College, are honored as student marshals. This year's marshals were:
Kayleen Boeckenhauer, Schreyer Honors College (nursing)
Molly Boniger, School of Humanities and Social Sciences (English)
Kara Dobson, School of Science (biology)
Daniel Kovalevich, School of Engineering (computer science)
Andrew Morgan, Black School of Business (finance)
Another tradition — an address to the new graduates from a Penn State Behrend faculty member — also continued. This year's remarks, from Charisse Nixon, professor of psychology, were delivered by video. Her comments offered another perspective on life in the COVID-19 environment, emphasizing the value of resilience.
"What science tells us, and it's very clear, is we can choose to grow," Nixon said. "We can choose to move forward, to adopt a strength perspective, and become stronger, and more compassionate with others, and to show more empathy.
"The miracle is not always in the change of our circumstance," she said. "Instead, more often than not, miracles are born out of changes in our responses to our circumstances. Go make some miracles."
Contact
Robb Frederick
Assistant director, news and information, Penn State Behrend