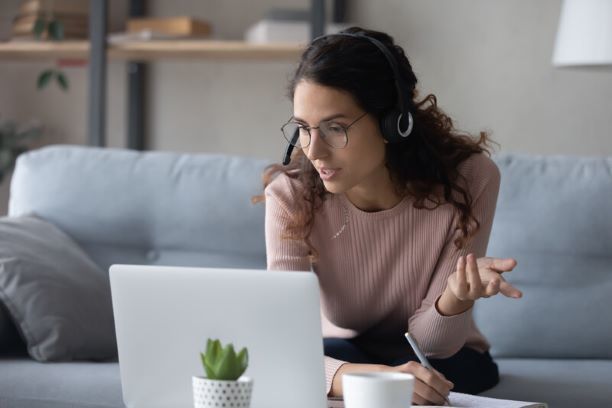 A lot can go wrong in a 10-page research paper. As Autumn Mozick wrote hers – an analysis of the structural properties of different molds for core pins, which form the tubes for medical syringes – she and a classmate met with a writing tutor from Penn State Behrend's Learning Resource Center to talk through the language they were using.
"That paper was a big part of our final grade," said Mozick, who graduated in May with a degree in plastics engineering technology. "It had to be good."
When the college transitioned to a remote-learning environment, hoping to slow the spread of the COVID-19 virus, Mozick kept writing. She also continued to meet with her tutor: Within a week of the transition, 70% of the Learning Resource Center's tutors were working through Zoom.
"We have a terrific group of tutors, who are committed to seeing their peers be successful," said Ruth Pflueger, the director of the Learning Resource Center. "They're always willing to go the extra mile."
In the COVID-19 quarantine, that meant even more Zoom meetings, using laptops and cameras borrowed from the college's Information Technology Services group. The math tutors also used their iPads, which functioned as whiteboards.
"It took some getting used to," said Angela Dale, a math and physics tutor, "but once I figured out how I could write on their screens, and how they could write on mine, that made it a lot easier."
Online, her sessions stretched a bit longer. Students were anxious, particularly about how testing would work in the remote environment.
"Some of our students were overwhelmed," Pflueger said. "They were dealing with a lot of stress, at school and also at home, and they were worried about keeping up with their coursework."
Dale, a rising senior, tried to guide them into conversations.
"I ask a lot of questions," she said. "I ask about the material, but also about the student. I find a way to ask them, 'How was your week? How are you doing?' If you get them talking, you can learn a bit more about them, and what has and hasn't worked for them.
"When you're working through a problem and the student is sitting next to you, you can read on their face whether they really understand you or not," Dale said. "Sometimes, even if they don't understand, they don't want you to go over it again. They say, 'Yeah, yeah, I got it.' That's a lot harder to notice online. You have to really be listening to them."
It helped that she mostly tutored students who knew her before the transition to remote learning. That built in a level of trust.
"Having those relationships in place really helped," said Alexander Mozes, a physics tutor who also helped engineering students with their writing. "I had to go a little slower, because we couldn't always see each other face-to-face, but I had worked with most of the students before, so we weren't starting from scratch."
As the semester progressed, Mozes adapted his tutoring to the new format. In his writing sessions, he found that he actually preferred the online model, which provided more opportunity to reflect on and refine those 10-page research papers.
"When we worked on those in-person, the student would hand me a hard copy, and I would write my feedback by hand," Mozes said. "I could never write as much as I wanted to.
"Online," he said, "I could be more thorough, and could better explain why I was recommending the changes.
"I think students get more out of it that way," he said.