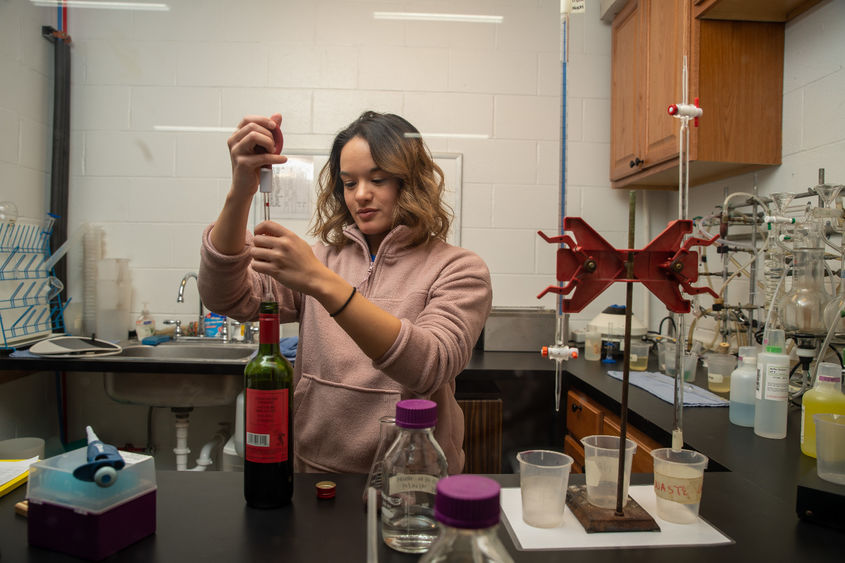 ERIE, Pa. — Food-and-beverage production is a science. It's also a potential career path for students like Roni Stefanick, a 2020 Penn State Behrend graduate who completed a semester-long internship at Mazza Vineyards in North East.
Stefanick learned about the opportunity from Michael Campbell, distinguished professor of biology and director of Penn State's Lake Erie Regional Grape Research and Extension Center (LERGREC), a 40-acre research facility in North East.
"He knew I had an interest in food science, and he saw the Mazza lab internship as a good opportunity for me to get hands-on experience in the industry," said Stefanick, who ran experiments on wine and juice to be sure it fit within the proper parameters for pH, sulfur content and sugar levels.
Stefanick said her internship drove home the lessons she learned in the chemistry labs at Behrend.
"When I was doing labs at school, I was trying to earn a good grade," she said. "I wasn't really thinking about how the skills I was learning could be applied in the real world."
One lab process she often relied on was titration, a quantitative chemical analysis.
"I had no idea that all the titrations I did in my chemistry labs would be so useful later," she said. "During my internship, I titrated nearly every day, testing for the amount of free sulfur in each tank of wine or determining the titratable acidity of grapes and wines."
From vineyard to vino
Grapes are big business in the Erie Concord grape belt, which stretches from Erie County to Chautauqua County, New York. Scientists play an important role in the industry, from the vineyard to the lab.
Behrend faculty members and students work with area farmers at LERGREC to improve crops, thwart pests and explore new varieties and growing techniques. The center has been operating for more than 65 years.
Sometimes, as in Stefanick's experience, several goals can be met at once.
"My supervisor, Mario Mazza, helped me shape a research project from past data the winery had collected related to an analysis test known as Yeast Assimilable Nitrogren (YAN)," Stefanick said. "I was trying to find out if there was a correlation between fermentation time and YAN, which is the nitrogen available for the yeast to begin fermentation.
"It's tricky to figure out," she said, "because there are a lot of factors, such as wine variety and nutrient addition, that play a role in how fermentation proceeds."
One fun component of the work: Stefanick learned how to properly taste wine.
"It's much more than swirling it around in the glass and sipping it," she said. "It involves picking up on aromas that may be slightly off or sensing when the wine has just the right amount of sugar added. Tasting wine involves all of your senses."
Contact
Heather Cass
Publications and design coordinator
Penn State Erie, The Behrend College