Penn State Clinical and Translational Science Institute offers program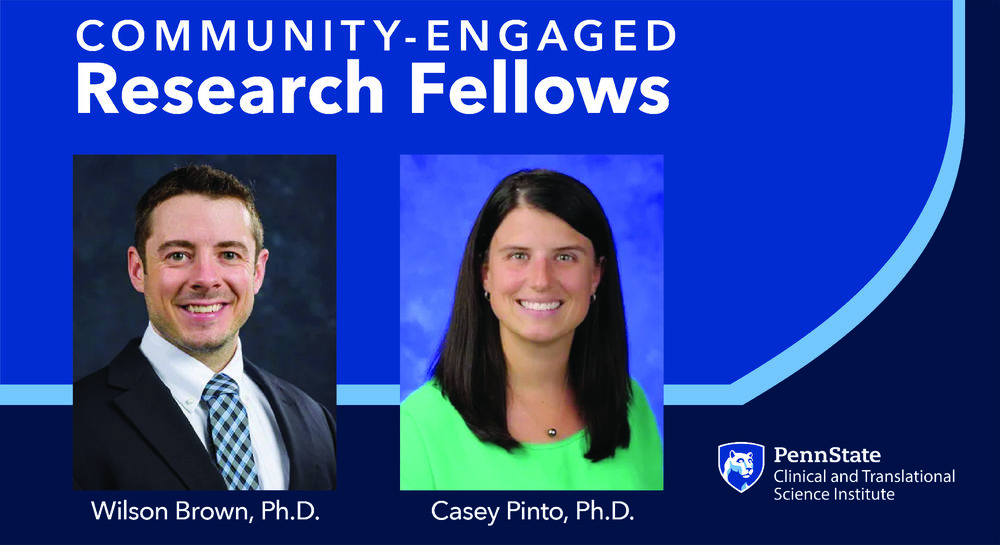 Two Penn State faculty will learn how to better incorporate community input into their research programs through a Penn State Clinical and Translational Science Institute fellowship program. Wilson Brown, assistant professor of clinical psychology at Penn State Behrend and Casey Pinto, assistant professor of public health sciences at Penn State College of Medicine, are this year's Community-Engaged Research Fellows. Entry into the program is a competitive process.
The Community-Engaged Research Faculty Fellowship Program matches a researcher with a mentor and protects time for research. Dedicated research time is essential for a busy clinician helping patients or an educator teaching students. Community-engaged research meets the needs of the community by involving those who have an interest in improving health. Those involved can include a community and its members, patients, clinicians, researchers, purchasers, payers, industry, hospitals and health systems, training institutions and policymakers. Community-engaged research a way to ensure that research addresses the needs of those it is intended to help.
Brown researches the care of survivors of traumatic stress in community settings. Traumatic stress is caused by experiencing or seeing painful or distressing events or learning of such events happening to a close friend or relative. Specifically, he works with community organizations in Erie County to educate providers about identifying the signs of traumatic stress. Additionally, identifying people with traumatic stress creates the need for more treatment options in communities. Brown's current research program also seeks to improve the use of evidence-based programs within the community, especially for people with severe mental illnesses like schizophrenia and bipolar disorder.
"The experience of trauma exposure has important clinical implications for individuals with severe mental illness," Brown said. For example, people with both post-traumatic stress disorder (PTSD) and severe mental illness often have worse health outcomes than people with PTSD only.
"As part of my fellowship, I hope to develop further expertise in community engagement etiquette and initiation of strategic partnerships with community and multi-disciplinary research teams," Brown said. "I hope to obtain training in the development of needs assessments and administration of focus groups and to obtain training in mixed methods research design, data collection, and statistical analysis. I look forward to building strong, mutual collaborations with other community-engaged research faculty to support these goals."
Brown's mentor is Melanie Hetzel-Riggin, professor of psychology at Penn State Behrend.
Pinto researches behavioral and social factors associated with sexually transmitted infection rates and how these vary between rural and urban adolescents. Her work has been primarily in York County. Her project in the fellowship focuses on creating a network of community members interested in sexually transmitted infection prevention and treatment and are in a position to help disseminate research findings to implement changes.
"The well-known timeline for converting research into practice is about 14 years," Pinto said. "My research is directly relevant to current public health issues, and I wanted to impact the health of Pennsylvanians now, not 14 years in the future. The best way I could see to do that was to develop a network of relevant community members who can immediately act on my research findings. Applying for a fellowship that mentored me as I sought these relevant community members was a natural fit."
Pinto plans to learn how to expand and maintain a network of community members with a vested interest in sexually transmitted infections prevention and treatment. She also wants to learn how to manage expectations and handle difficult situations, essential when discussing sexually transmitted infections in adolescents.
Pinto's mentor is Cynthia Chuang, Kenneth V. and Eleanor M. Hatt Faculty Fellow in Internal Medicine and professor at the College of Medicine.
Brown joined Penn State Behrend in 2016 and is the program coordinator for the Applied Clinical Psychology MA Program. Pinto joined Penn State as a College of Nursing faculty member and transitioned in 2016 to the Department of Public Health Sciences. She is also a nurse practitioner for the Commonwealth of PA in its sexual wellness clinics.
Penn State Clinical and Translational Science Institute provides tools and resources to promote research collaboration and make research more efficient at the university. Its cores concentrate on several aspects of the research process, including community engagement, informatics, multisite clinical trials, clinical research and workforce development. The institute offers consultations to assist Penn State researchers and connect them with appropriate resources. Learn more at ctsi.psu.edu or complete a service request form.