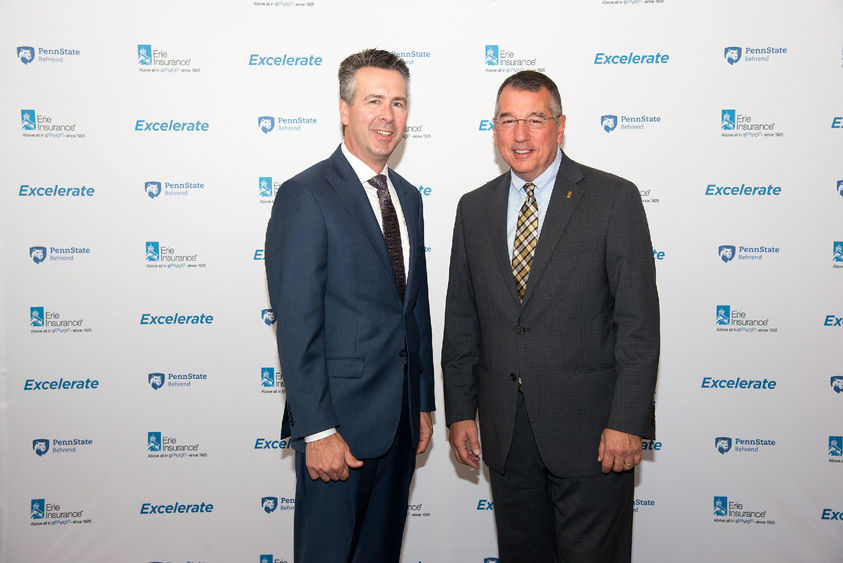 UNIVERSITY PARK, Pa. — Penn State has recognized national insurance leader and longtime corporate ally Erie Insurance as its 2020 Corporate Partner of the Year. The annual award celebrates corporate partners that have demonstrated exceptional commitment in promotion and support of Penn State, excellent track records of philanthropy and research, and active engagement of students and alumni in the workplace and the classroom.
"With nearly a century of service to Pennsylvania residents, Erie Insurance – and the more than 400 alumni the company employs – exemplify the best and brightest of what it means to be a Penn Stater," said Penn State President Eric J. Barron. "The company's consistent giving and pioneering vision for economic development in Erie and northwestern Pennsylvania make it a treasured ally in fulfilling our land-grant mission in the region. I am proud to recognize Erie Insurance as a valued partner this year, and as we move into the future."
Founded in 1925 and headquartered in Erie, Pennsylvania, Erie Insurance offers comprehensive auto, home, business and life insurance through nearly six million policies currently in force. According to A.M. Best Company, Erie Insurance is the country's 11th largest homeowners insurer, 12th largest automobile insurer by direct premiums written, and 16th largest property/casualty insurer based on total lines net premium written. A Fortune 500 company, rated A+ (superior) by A.M. Best, Erie Insurance operates in 12 states and the District of Columbia. Locally, through its Giving Network, which supports volunteerism and charitable giving, its spearheading of the Erie Downtown Development Corporation, and its support for local universities and nonprofit organizations, the company remains committed to its mission of serving the Erie region.
Through more than twenty years of partnership with Penn State, Erie Insurance has deepened its mission of community service to the northwestern Pennsylvania region. The company's philanthropy has supported priorities at Penn State Erie, The Behrend College, with more than $2 million in total giving. Its gifts have created scholarships at Behrend and funded enrichment and youth educational outreach programs across the college. With employees regularly serving in trusted advisory roles and hosting career enrichment opportunities at Behrend, the company has a history of long-standing support for Penn State.
In 2018, Erie Insurance pledged $1.5 million to Penn State Behrend to create the Excelerate program, its broadest and most significant contribution to the University yet. Leveraging a match from University funds for economic development initiatives, the gift generated $4 million toward scholarships for first-year students through the Pathway to Success: Summer Start (PaSSS) program, as well as funding for upper-level students to gain experience working with local businesses and nonprofits in the region. The company's giving also supports the Susan Hirt Hagen Center for Community Outreach, Research and Evaluation (CORE) at Behrend, helping to extend Penn State's support for local development through research and evaluation services to organizations working toward positive youth enrichment in Erie County.
"Erie Insurance has embraced its role as the largest employer in Erie County by actively engaging in projects and initiatives that continue the forward momentum of our community," Penn State Behrend Chancellor Ralph Ford said. "With financial support and commitments of time and expertise by the company's employees, Erie Insurance is an active, steadfast partner. The company's involvement at Behrend, from the Excelerate program to giving at CORE to individual mentoring and scholarship opportunities, doesn't just support the University and our students. It is an investment in our shared future."
Erie Insurance has also made annual gifts to career enrichment opportunities and student outreach initiatives like Penn State Behrend's Math Options Career Day and Women in Engineering program, among others.
The company maintains an active presence at Behrend through leadership roles and support of career development opportunities for students. Company representatives regularly serve on the Council of Fellows as advisers to the college chancellor and participate in efforts such as the Black School of Business' Executive in Residence program, offering industry expertise and mentorship to students.
"Erie Insurance is honored to be named Penn State's 2020 Corporate Partner of the Year," said Tim NeCastro, president and CEO of Erie Insurance. "For more than 95 years, we have been committed to following the Golden Rule by treating people right, supporting the community and investing in its future. Partnering with local academic institutions such as Penn State to develop and secure talented people here in Erie, Pennsylvania, is just one way of keeping that commitment."
Previous Penn State Corporate Partners of the Year include CSL Behring, Ernst & Young, Schlumberger, AB Volvo, United Technologies Corp., General Electric, Chevron, Toshiba/Westinghouse, Dow Chemical, Boeing, Highmark, PNC, Barnes and Noble, Lockheed Martin and Bank of America.
Support from these and other corporate partners will advance "A Greater Penn State for 21st Century Excellence," a focused campaign that seeks to elevate Penn State's position as a leading public university in a world defined by rapid change and global connections. With the support of organizations, alumni, friends and parents, "A Greater Penn State" seeks to fulfill the three key imperatives of a 21st-century public university: keeping the doors to higher education open to hardworking students regardless of financial well-being; creating transformative experiences that go beyond the classroom; and impacting the world by fueling discovery, innovation and entrepreneurship. To learn more about "A Greater Penn State for 21st Century Excellence," visit greaterpennstate.psu.edu.